New tools for remote work are popping up daily, but the current trend are virtual offices – spaces that are supposed to make remote teams feel like they are co-located. But does that make sense?
In our latest interview with GitLab CEO Sid Sijbrandij, the consensus was rather negative. Talking about the trend of remote work tools, Sid said: "I've seen a lot of virtual office tools. We have virtual meeting rooms and stuff like that. I don't think that makes sense. They're trying to solve a problem that doesn't need to be solved."
But is that right? Is that something that doesn't solved.
Today's Virtual Office Tools
Looking to drastically change the way we work, two tools seem to fight the challenge of getting teams into virtual workspace.
Sococo
Sococo has been around for a while. While their approach hasn't been as relevant more than 10 years ago, it's getting much more so in today's day and time. Sococo looks to recreate an office environment, where people can sit together (remotely and online of course) in meeting rooms, coffee areas, chill zones and different workspaces.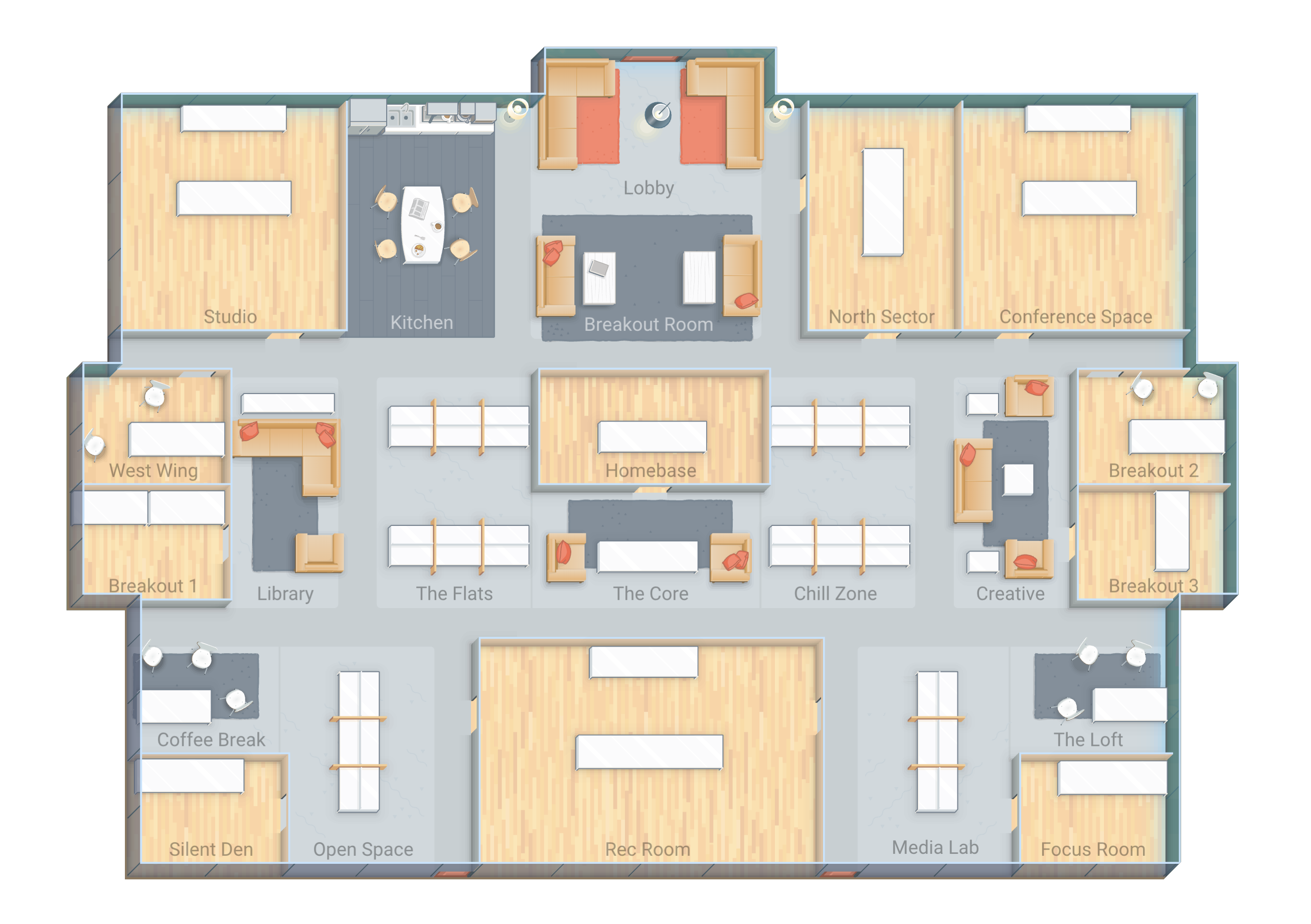 While it can feel a little odd at first to work in a virtual office – sometimes a little bit like a combination of Second Life and Club Penguin – it can also feel extremely familiar. You're not physically in the space, but it seems intuitive to reserve a physical meeting room for meetings, hang out at the open spaces if you're open for a talk, and get back into the Focus Room if you need some alone time. Especially for workers just starting out remotely, this can feel more natural than an all-remote team.
Remo
Apply Sococo's approach of the late 2000s to the late 2010s, and you're getting left with Remo. At first, Remo CAN feel like a carbon copy of Sococo, but once you're getting into it, it truly feels like a tool crafted more specifically for remote workers:
Instant video call connections
Whiteboards
Integration with Google Docs & Slack
There's not much else to mention here, the rest of the approach is really similar to Sococo – you create your own office or get a generic one, and your team members can join that office at any time and for any use case. Whoever is online, is in the office usually.
Tandem
Is there really a need for a visually available office space? Tandem doesn't think so, and brings the benefits of the other two virtual spaces to a more native experience. Users can see what their coworkers are working on, and almost instantly talk to them. Their video calling software is built for collaboration, so it's integrated into over 40 apps. While they self-name as a "Virtual Office" for remote teams, this is really more a productivity and collaboration tool, than anything else.
The case for Virtual Offices
So, should you use, invest or get excited about these virtual office tools? A lot of people seem to think so.
The benefits of a physical space
Remote workers struggle with isolation, collaboration and communication. Putting everyone – at least digitally – back in an office, seems to work for some teams. Co-located workers do not struggle with these issues as much, because collaboration usually happens organically, communication is easy (yelling across cubicles) and isolation doesn't happen, because breaks are often used for socializing. Putting this aspect back into remote work can have advantages.
Company Culture
Another issue are casual conversations. If your team is only connected through text-based chat, conversations tend to become transactional. Having people all together on a video chat, displaying availability to chat is a great way to encourage those conversations again.
The case against Virtual Offices
A good way to bring your team together, but is it a viable way to work? There are some arguments against that.
Not timezone friendly / async
As remote team, you should always strive to make async communication work. Infos should be available to all employees at all times. That's not the case with a HQ office, be it physical or virtual.
Imagine the following scenario: Your team consists of 50 employees in the US and North America, 20 in Europe, and 5 in Asia. Your virtual office is full and booming during US mornings: The Europe Team and the America Team work together and are able to collaborate for a few hours. After some time, Europe logs off, and it's only US left – still not bad. Now it's getting late, and US logs off too. This is the time when your coworkers in India and Japan wake up – and no one else is there, until Europe wakes up again.
This comes with a few issues:
Information exchanged between US and Europe is not available in Asia
Little overlap between US and Europe/Asia might lead to team isolation
Asia team is isolated
A much better approach would be to have information exchanges in a trackable medium, not a virtual workspace.
Hit on productivity and comfort
If you've ever been part of a remote meeting, you know how much people dislike long video calls and showing their face. More likely than not, a person will prefer not being on camera.
These virtual offices usually work with an always-on audio and video flow, so people might get disturbed by that, even when sitting in a "Deep Focus" zone. Also, the ability for people to barge in on a working session and having a discussion might feel great at first, but might mean reduced net productivity in the longterm.
Scalable?
The same way that co-located companies quickly outgrow their offices, remote teams will also outgrow their virtual spaces. Remote teams with a good async culture and knowledge transfers are almost infinitely scalable. Having your whole team in a virtual "physical" space seems like a step back, where you are postponing the issues of early remote teams (collaboration, knowledge) to a later stage, where changes are a lot more difficult to implement.
Alternatives?
Great, big and healthy remote teams like GitLab and their 800+ employees are surviving without these virtual spaces too, so how do they do it? There's not one tool to solve all your problems, but a lot to read and learn.