Having issues with your internal communication? As your organization grows and becomes more globally-distributed, the more you'll need to rely on virtual internal communication tools to collaborate on and manage projects effectively.
At NoHQ, we will guide you on how you can successfully build Internal Communication to get maximum productivity from your team.
What is Internal Communication?
Internal communication is the communication between employees and their teams.
Without internal communication, your employees are going to be unmotivated. Their work order would not have a clear structure.
Good internal communication will allow you to not only transmit data, but values, habits, and feelings. This will enhance the sense of your workers belonging to your enterprise, and motivate them to improve their productivity.
Different types of Internal Communication Tools
Internal Communication tools are tools used to promote communication between your business and your employees.
Asynchronous Communication
Have you ever sent a mail or text to someone but not expecting an immediate response? This is a common example of asynchronous communication.
Asynchronous communication is a type of interaction that has a huge time lag between the communicator, and the recipients.
An example is an email. People sending out emails aren't eliciting an immediate response or real-time interaction with the recipient.
Synchronous Communication
Synchronous communication is real-time communication that takes place between two or more parties. This communication demands that all parties participate in the communication process at the same time. It doesn't have to be in the same location.
Examples are conference calls, chats, video conferences, and phone calls.
Documentation:
Documentation is a type of communication tool that gathers all of your company's knowledge, necessary for your employee, into one place, so that it can be easily accessible for their use.
This documentation can be in text or video, and it's documented for the benefit of HR, finance, sales, marketing, development, customer support, and more.
Project Management:
Project management comprises the processes, knowledge, skills, methods, and experience to deliver value to your organization.
Different Tools For Your Internal Communication
(Recommended For Chatting)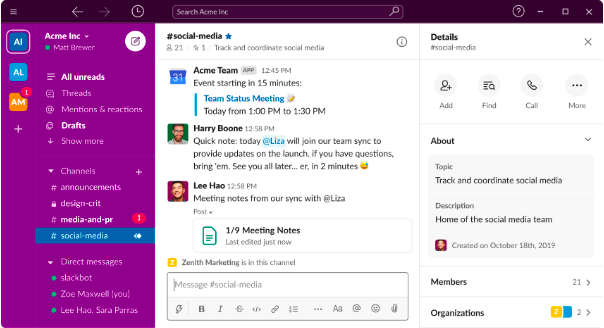 Slack is a messaging, communication, and collaboration platform designed for your organizing team.
You can use Slack to stay in touch with your team members and keep them up to date with the company's affairs.
Some of its amazing features are Slack workplace, Channels (chat rooms), voice calls, video calls, file sharing, customer emojis, multiple devices and platforms, and integration with other apps.
With Slack Channels, you can create group chat rooms for members of your office. This means that you can have different rooms dedicated to specific teams, projects, and discussions. You can also create channels for your entire team members.
Pricing:
Slack offers both free and paid services.
At no cost, you get 10 integration with other apps, 1:1 audio conversation, screen sharing, and access to 3 months of message history.
Slack Pro plan is priced at $7.25/month, while its Business+ plan is $12.50 monthly.
The pro plan is better suited to a small team desiring better collaboration. Business+ is best if you want to scale your business while increasing productivity through better communication.
(Recommended For Email)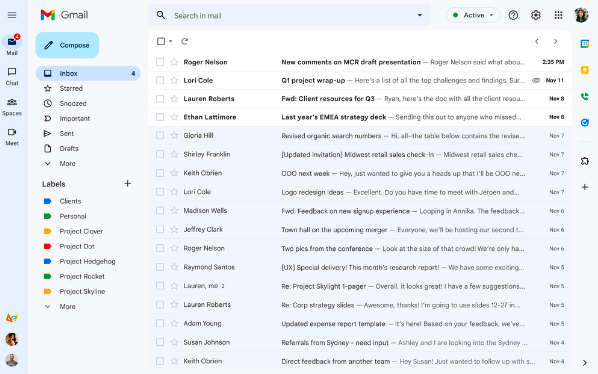 Gmail doesn't need much introduction as it's one of the biggest email services with over 1.5 billion active users as of 2019.
Gmail is a web-based email service provided by Google. It functions like any other email service where you can send and receive emails, create an address book, block spam messages, and send files. Gmail is free to use and provides users with 15 gigabytes of free storage.
Gmail is widely popular because it not only performs basic email tasks but also has unique features.
Features:
Spam Filtering: Gmail uses advanced AI to filter spam messages away from your inbox, and into a Spam folder which it deletes after 30 days.
Built-in Chat: Gmail has chat features that allow you to send instant messages, and make voice and video calls.
Cell Phone: You can use Gmail to call any phone number. Calls to the United States and Canada are free while other countries have low rates.
Conversation Threads: When you send regular emails about a specific topic/event with another person, Gmail automatically groups these emails into a conversation thread.
Search Bar: One of the things that made Gmail so appealing when it launched in 2004, was its search feature. Gmail allows you to search for specific messages.
(Recommended For Audio, and Video Conference)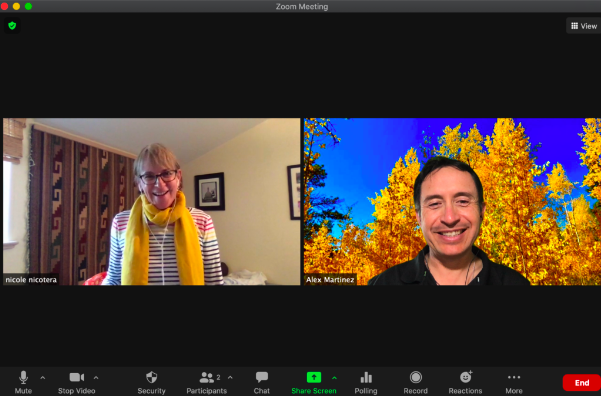 For any company operating remotely, video conferencing software is the cornerstone for successful internal communication with team members.
And when it comes to video conferencing apps, Zoom is arguably the best of the lot.
Zoom is a cloud-based teleconferencing software that provides a virtual room where more than one party can schedule meetings in real time.
Zoom provides audio and video conferences, screen-sharing, Live charts, webinars, polls, breakout rooms, and more. It is compatible with all devices including Windows, Mac, Linux, Android, and iOS. Participants are not required to sign up to attend a meeting.
Zoom is currently the most used video conferencing app for companies with a team of fewer than 500 employees. After Skype for business, Zoom is the most used solution for companies with more than 500 employees.
Zoom growth scaled the most in 2020 due to restrictions placed during the Coronavirus pandemic. According to CNBC, Zoom added more than 2 million active users in that year alone.
Zoom is a great internal communication tool for remote meetings because it recreates some of the essentials that help us feel connected as humans.
Pricing:
Zoom is free to use, but offers more complex features through its Plans, which range from $14.99 - $19.99 monthly.
(Recommended for Employee's Documentation)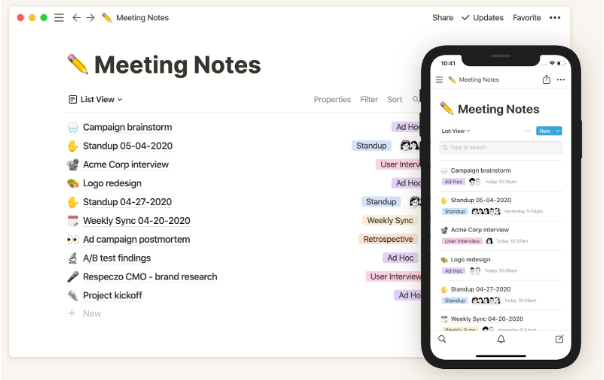 Notion is a note-taking, data management, and project management software. But don't let the simple definition fool you, it is an all-in-one tool that can serve a variety of purposes.
With Notion, you can take notes, track progress, organize project details, and create a mood board for art. They are tools for everything project management including databases, Kanban boards, wikis, notes, and tasks.
Notion is designed to help you, and your team coordinate deadlines, objectives, and assignments for your productivity, and efficiency.
Notion offers a unified workspace to you, and your team where you can participate in discussions, comment on ongoing projects, and receive feedback. It helps users clip content from web pages, save documents, manage files, set reminders, schedule tasks, organize their work, and keep agendas.
Notion is compatible with all Operating systems including Windows, Mac, Linux, Android, and iOS.
Pricing:
Notion is free to use and has three other subscription models to fit your team. They include Personal, Team, and Enterprise. Notion premium plans range from $4-$10/month.
(Recommended For Project Management)
Asana is a project management software that helps you, and your team manages all kinds of tasks through planning, organizing, and tracking.
With Asana, you can easily assign a project, and manage the team to work on the project all in one place. This tool will help you, and your team collaborate, organize projects, prioritize tasks, and track progress. This allows you to improve efficiency, complete projects, increase sales, build better products, and reach more customers.
Asana is one of the best tools for remote work management. You can use it effectively to streamline your project's workflow through Asana boards, To-do lists, and Spreadsheet project management.
Pricing:
Asana is free to use and has premium plans for more feature unlock and functionality.
It consists of Basic, Premium, Business, and Enterprise Plans. The price range ranges from $10.99-$24.99 per month.
Bottom Line
Starting a remote company is good, but it comes with great compromises that most founders are ignorant about.
That is why over the years, we have seen a breakthrough in software and tools to help fix these gaps.
With the tools listed in this article, you should be able to get going for your enterprise.
However, there's a lot more to know, and fortunately, there's an organization like NoHQ to help you on your journey.
NoHQ has a wiki of tools designed to help founders build successful remote businesses and establish team cohesion.
If you are a founder or start-up remote business owner, visit NoHQ to get strategies, tools, advice, and actionable guidelines for your business.