Want to learn how to foster virtual water cooler moments? Whether your company is new to remote working or has been doing it for some time, the COVID-19 pandemic has resulted in employees struggling to find a clear boundary for work-life balance.
Having virtual water coolers moments can encourage stress-free interactions between remote workers. In this article, you'll learn:
The importance of virtual water coolers

How to establish virtual water cooler moments to foster remote team connections

Some best practices to take into account
Virtual water cooler explained
In a physical work environment, we have tendencies to run into coworkers in spaces such as water coolers, break rooms, and hallways. These environments allow us to break away from busy work environments so that we can interact and have a good time. When this happens, it is known as a "water cooler" event.
When working remotely, employees can't run into each other. Because one might be working in a coffee shop and another in his home office in a different country.
However, you can tackle this problem by creating a virtual break-room through software like Zoom, Slack or Microsoft Teams. This is known as a "virtual water cooler", which allows your peers and you to take a break from work.
Why virtual water coolers are important (and fun)
Water cooler moments consist of the causal interactions between co-workers. These random run-ins become an opportunity for people to socialize about work and personal life, ultimately strengthening teamwork and collaboration within the company.
These happen much less frequently with remote work. Nowadays, isolation is a common occurrence among employees working from home. This becomes a huge problem, especially when 86% of employers blame a lack of communication as the reason behind work failures.
Water cooler conversations allow your remote team to:
Take a break from work

Have personal interactions with one another and strengthen bonds between remote workers in a less stressful environment

Allow people who don't work directly with each other to chat

Bounce ideas in a casual setting

Create a sense of community in your virtual space
The question becomes, can we find a way to foster a communal and collaborative atmosphere online? That's when creating your virtual water cooler becomes a priority.
The benefit of having watercooler activities
There are many important benefits of having "mini-breaks" like water coolers such as improving overall mood, promoting collaboration, and helping colleagues feel less lonely.
Again, these breaks don't need to be lengthy, usually, 1-5 minutes will suffice.
These small opportunities give time for your teammates to brainstorm, bond, and show compassion. Because sometimes working remotely can be hard, especially if you do not have anyone to vent or even exchange ideas with.
This situation shows the true power of what a water cooler moment can truly do. It allows us to balance out work, with enjoyable conversations. This allows individuals to better deal with certain situations which in turn boosts employee retention rates, and most importantly, promotes better mental health.
Virtual water coolers help strengthen your team's bond
Because of the remote work situation, employees miss out on these water cooler moments that can strengthen their connections with coworkers.
Like anything else, over time your teammates will get accustomed to these water coolers. These online moments help them strengthen their confidence and get out of their shell. It will help introverts come out and feel comfortable about sharing ideas.
These virtual water cooler moments are vital for you to reconnect back with your peers, and harness a strong relationships. This helps you break away from the loneliness of working remotely and will give you a strong sense of camaraderie even if it does not directly affect the bottom line of the company.
Another area this will help is in team communication. These water coolers help team members better understand how each other communicates. This can lead to increased productivity for everyone.
That's why it is important to mix up the water cooler activities that your team and you do. This will create different circumstances and different ways that your peers will communicate.
Most of the time the setting of the remote work will be from home. This will also allow anyone to share family and pets in these intimate times, to strengthen relationships and bonds.
Improve employee engagement through virtual water coolers.
Because most remote workers are located in different locations and time zones, it can be hard to stay connected aside from work.
A virtual water cooler can drastically improve relationships and reinforce culture because it leads employees to feel like they are part of something bigger.
Virtual water coolers promote innovation
Sure, it may seem that a virtual water cooler is a place to escape work briefly or just to "slack-off". However, they can be a great source of innovation.
This is because employees don't have to be formal and they can communicate freely. This can lead to brainstorming sessions from which various ideas can be born out of.
Don't forget to pop into these watercoolers from time to time. Because it is important as a leader to show you care and to also show your employees that they are part of something. This will also generate a great morale boost in your employees and will humanize your work relationship.
Ideal conversation topics for a virtual water cooler
Here is a list of great topics and questions to get a good conversation going during virtual water cool:
Tell me a joke.

What is your favorite app?

Share your funniest puns.

Where would you like to travel next?

Do you have any traveling plans for this year?

What are you most looking forward to this week?

What book do you recommend I read?

What is the strangest thing your pet does?

What is the latest show you have been binging?

What are 2 objects you cannot live without?
These are just some of the ideas of questions that you can ask. Remember, treat this event like a normal run-in that you would have during a normal workday at an office. The idea is just to try to strike up a conversation.

For better tips on mastering your virtual communication make sure to check out this linked article.
How to encourage virtual water cooler moments
Luckily, the digital world has many collaboration tools that can help bring back a sense of normalcy into the work culture that's gone from face-to-face to completely online. Below we suggest a variety of activities and tools you can use to foster a healthy virtual workspace for your remote team.
1) Optimize your chat platform for water cooler interactions
Many platforms have features for team members to get to know each other and discuss topics not related to work.
On Slack or Microsoft Teams, consider implementing the following channels for water cooler chats:
Create channels for random interactions
Your #Random channels should be the first point of reference for all types of virtual water cooler conversations.
In these channels, you can start a conversation about virtually anything, from just saying a quick hello! to signal that you're online to the rest of the team to complaining about the crappy way Game of Thrones ended.
These channels can help bring great casual moments of levity, as they allow any employee to interact with each other, outside the constraints of their role or seniority.
You may even have a channel for #memes to share, well, memes that you find funny, or the dev team can even have their own #devmemes channel, which may contain, as you may have guessed right, memes on topics related to programming.
Create channels for hobbies
From book clubs and self-care to sports and cooking, creating group chats around a variety of hobbies or interests will spark conversations between your employees.
Implement casual coffee/tea break times
Creating a space where people can come together and enjoy a morning coffee or tea can help encourage employees to converse with one another.
On Slack, there are two features you can download to make morning coffees even more enjoyable.
The WaterCooler bot

pairs two people together at random to have 5 minutes of conversation.

Donut

asks icebreaker questions to spark a new topic of conversation.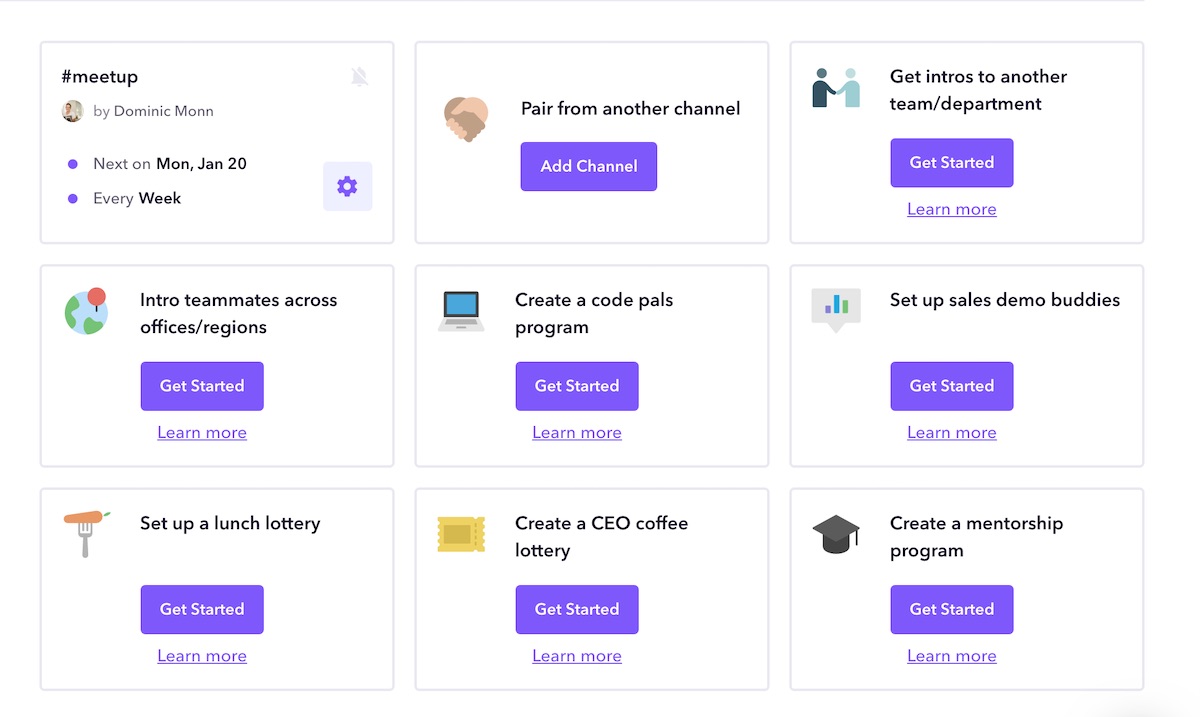 Again, there are similar Icebreaker bots on apps like Microsoft Teams for employees to socialize.
2) Implement virtual lunch-and-learn sessions
While it can be quite difficult to galvanize remote workers into eating lunch together, you can host weekly or monthly virtual lunch-and-learn sessions to reel them in.
To further promote participation, consider offering to reimburse your attendees' food costs, or even organizing this before lunch work hours (so they can have an actual break afterward).
In a nutshell, lunch-and-learn sessions are optional events that happen during lunch. The events can be on anything, including:
People in the marketing team explaining what they do and how the team works

Company updates on the milestones achieved

Workshops to learn from experts

Explaining the product roadmap

Skills development
In these virtual lunch-and-learn sessions, you can either limit participation to a group of employees or allow the whole company to join in.
3) Organize fun water cooler activities
Hosting fun water cooler activities for your employees is another way to effectively get everyone together for a good time. These allow your employees to relax and help build a stronger team.
There are so many online games and virtual social events for remote employees to play together, but here are some examples you could try:
Remote Mafia (Can play on any video call platform).

This game involves your team working together and figuring out the identity of each player. Things can get intense, making it a great bonding experience, especially for those who get competitive when playing board games.

Skribblo

brings out the creativity in everyone. This game is competitive and allows employees to think outside the box.

You can also use

Netflix Party to watch shows with colleagues on Netflix completely online.
Organize Happy Hour

. There's nothing wrong with sharing a few drinks with co-workers. It makes for a relaxed and enjoyable setting. All team members can hop onto a video call and start playing trivia games, challenges or just catch-up on life.
If you want to take this up a notch, consider rewarding employees for participating or winning these games, such as through online vouchers.
Virtual water cooler best practices
If this is your first time creating a virtual water cooler, mistakes are bound to happen – that's completely normal. However, there are tips to consider ensuring that each water cooler activity serves its purpose in helping employees band together for an enjoyable time.
#1. Don't force anything
It's important to keep everything as casual as possible. That's what water coolers are – they're meant to form genuine interest and bonds between team members. As such if an employee doesn't want to participate in an activity, don't force them to do so.
#2. Encourage engagement and participation
That said, you can always offer incentives or rewards to foster participation and engagement in some of these events:
Encourage employee engagement in these channels

. Make sure the virtual watercooler channels are always flowing with interesting topics to discuss or participate in.

Make sure every remote employee is successfully onboarded

into your chat platform. They need to feel like they belong within your company's virtual community to compel them into interacting with the team.

Gamify social interactions

. Depending on the structure of your remote company, you may want to use

Karma

on Slack or other systems that allow you to reward employees with points for participating or helping others.
#3. Trial and error
Most likely not every water cooler activity will resonate with the team. That's why you should keep an eye on the interest and engagement levels during certain activities. You should keep track of this information on Notion or Google Docs for your own reference after each virtual water cooler.
#4. Ask for direct feedback
Sometimes we have to take a step back and allow others to share their own perspectives and opinions. This will help improve virtual water coolers and make sure everyone has a good time.
Surveys

. Open a Google Docs file with questions related to the water cooler activities and ask for feedback and suggestions with these questions:
What do you like about the water cooler activities so far?

Which ones don't you like?

What would you want to see added?
You can also designate a Slack channel to get feedback about water coolers as well.
Ask During Weekly Team Meetings.
To make sure everyone has an opportunity to express their thoughts, think about carving out a portion of a team meeting for feedback on water cooler activities. Jot this information down and take suggestions into consideration.
How to Create Virtual Water Cooler Moments
Virtual water cooler moments are the key to adding some color to the otherwise boring lives of remote employees. There are many ways in which you can introduce this practice in your organization. Below we've shared the more broad and widely applicable ideas on how to create virtual water cooler moments. Let's dive in!
#1 Merge the Water Cooler Moments with Meetings
Studies have shown that meetings aren't really employees' favorite activity, and approximately 95% of them lose focus and miss what's been discussed.
Keeping this in view, arranging water cooler moments surrounding or within meetings can help in not only fostering innovation, but also in improving the attendees' focus and present mindedness.
The best strategy to merge water cooler moments with meetings is to have a certain time frame before the meeting for the attendees to have an informal chat. It can be short; somewhere between 10 to 20 minutes works perfectly fine.
You can have virtual water cooler moments topics mapped out before the meeting sessions to smoothly steer the conversation.
Such chit-chats allow the employees to not only catch up with each other but also give them room to discuss company developments aside from the meeting agenda. It could prove to be an excellent informal brainstorming session. It will also allow you to get information from various company departments that don't necessarily end up in the corporate newsletter.
#2 Ensure Informality
Informality is the key to achieving the best digital water cooler moments. Let's be real, none of us is concerned about our formal behavior when we are getting a coffee from the espresso machine or casually chatting while going from one department to another.
Considering this, your best bet to achieve the most fruitful digital work water cooler moments is to ditch formality. After all, informal conversations have been found to foster creativity!
Try and steer the convo away from the work-intensive conversations. Foster the culture of personal conversations between your employees. Trust us, they'll perform way better if they blow off some steam by ranting about specific projects or the job in general with their colleagues. Sharing will help them in clearing their mind, which, if discouraged could lead to mental distress.
#3 Be Creative
The secret to creating the best serendipitous moments among your employees is to let your creative juices flow. HSM, a research consultancy, came up with the idea of Collaboration Jams. It is a combination of various online activities ranging from asynchronous threads to chatrooms, where employees discuss and share ideas from throughout the world on whichever company problem hinders their day-to-day efficiency the most.
You can also come up with any such idea, however, instead of centering it on company issues, you can give it a personal touch to facilitate more fruitful and stress-relieving conversations.
The idea is to let the employees have unrecorded discussions that could spiral in any direction. This will not only assist them in adding some fun to their otherwise boring remote office life but also improve efficiency and productivity. You never know some of them might come up with a creative product or service idea that could generate you some serious cash if developed or implemented accurately!
#4 Virtual Clubs
Clubs are one of the best ways to foster new relationships and increase bonding among like-minded individuals. Imagine a group of Star Wars lovers from different departments of the organization virtual cosplaying. Or horror fiction enthusiasts watching the new Netflix release together on Zoom.
One of the ideas that appeal to us quite a lot is having a gaming club where members can have different tournaments. The opportunities are endless!
In the virtual world, virtual clubs are the way to go (TBH, with Meta's popularity, we believe soon we'll be able to do them in a much more realistic manner!). Throw in a few ideas and let your employees decide on which ones are the most appealing. Set a few ground rules and let them create their own clubs and hierarchies in them.
Here's what you can achieve from it:
Employee clubs have been shown to have

improved employee retention

. Chances are it would be the same with the virtual clubs.

It'll

improve bonding

between the employees.

Virtual clubs are likely to

foster inclusiveness

in the organization.

It helps add a

feeling of belongingness

amongst the employees.

Virtual clubs could prove to be

positive for the mental health

of the people involved as the interaction provides a safety net.
#5 Company Holiday Parties
Holiday parties are one of the best opportunities for some informal intermingling among the employees. In addition to this, it allows them to meet the upper management, which is generally difficult in day-to-day office activities, specifically in large organizations.
COVID, unfortunately, killed the holiday party season enthusiasm, however, you can rejuvenate it through virtual company holiday parties. This will not only provide employees with an opportunity to interact with each other in a fun manner, but it'll also give them a reason to dress up and be goofy.
If the virtual party is huge due to a large number of employees, then break it into small rooms with the option to join whichever group one wants.
#6 Sharing Treats
Gifting each other small treats is an excellent way to appreciate support during projects. You can foster this culture among your employees by encouraging them to share small treats every now and then as an appreciation token.
We're sure each one of you will agree that free and gifted food tastes delicious so why not add a pinch of love and support and make it even more worthwhile?!
Key Takeaway: There are multiple ways to create virtual water cooler moments with creativity being the major driver. Start by incorporating 10 to 20 minutes of informal discussion sessions before, during, or after meetings. Implement a small gifts exchange culture and set ground rules for starting virtual clubs to encourage employees to interact with their passions. Celebrate the holidays with virtual parties to keep the festive spirit alive!
Creating your virtual water cooler is necessary
In the age of technology, you can bring an authentic water cooler experience to the digital landscape. To better the engagement and productivity levels among team members, take a look through the list of water cooler activities and see which one you want to try out.
Remote work is here to stay, there's no doubt about it. As such, implementing these water cooler activities will ensure that every employee has a chance to enjoy, celebrate, and rejoice in the simple pleasures of companionship.