Deel makes hiring and working with remote talent easier. Deel simplifies compliance and payments for clients and contractors/freelancers. It provides both parties locally or internationally with a reliable, seamless payment experience.
Why is this a problem? As a remote founder, can't I employ my employees and remote workers?
People often think hiring remotely is merely sending money for the work that is done. It's a lot more than that. You have three options: PEO (Professional Employer Organizer), opening a subsidiary in each country you hire or hire independent contractors. Often companies choose to work with independent contractors, but the risks of misclassifying your hires are quite big. As a remote founder, you need to think about the labor laws, legally-binding contracts, documentation and, lastly, the payment experience.
Why can't I just wire money to my contractors directly?
Well, I am glad you asked! Before thinking about wiring money you need to ensure the right working relationship with your remote employees. There are many regulations that state the differences between an employee and an independent contractor. Most remote workers are actually hired as independent contractors. In some cases, they have their own local entity that is regulated by local labor laws. In other cases like France, you actually need to obtain legal status to work as an independent contractor
Let's get into some of the features: Deel can help you create legally binding contracts. How does that work, and what advantages do I get as a business, over just sending PDFs around?
We wanted to create a platform that makes generating contracts easier. Our general contract is carefully reviewed by top legal partners in each country who make sure the contract templates are labor law compliant based on the contractor's country. We are still adding more layers to cover for more countries.
On top of that, there are three types of contracts you can create on Deel to match your needs. There is a fixed contract for any contractor who always receives the same amount of money. There is a Pay as you go contract that is good for people who prefer to get paid per time or tasks. Lastly, there is a Milestone escrow contract which is a good option for one-off projects where the money is pre-funded and released as the project is approved by the client.
Last but not least, we tie together payments and contracts with cyber cycles (you can choose when creating a contract) which streamlines paperwork and offers a great payment experience.
For users in the US, Deel also does automatically generated tax forms. Why is this important to users in the US?
We created an easy way to compile data and generate obligatory tax forms. When you create a contract, we will use the information you provide us to automatically fill in forms. We can help you generate W9, W8 (W8-BEN, W8-BENE) and 1099. At the end of the year, you will be able to file in your 1099s to the IRS via Deel.
Filling in tax forms and filing them is often one of the most important things in the US. We wanted to lift some of that weight.
You also take care of onboarding. What does that entail exactly?
Yes, we take care of both contractors and clients from the moment they decide to work together. Setting up a contract on Deel is easy and takes only a few minutes. After that, everything is streamlined. We generate invoices, receipts and necessary tax forms for US users automatically, based on the information we gathered. Clients process payments when they are due and contractors withdraw money as soon as it cleared. Both parties can choose their own methods.
Can you walk me through a standard workflow with Deel? How do I set up my remote contractors and get them paid?
First, we start by assessing what types of contracts you need. Then our clients create contracts and send them to their contractors to review and sign. In the contract creation, you select a type of contract, write the scope of work and how much and how often a contractor will be paid. You finish off by answering a few compliance questions that help us generate the right contract.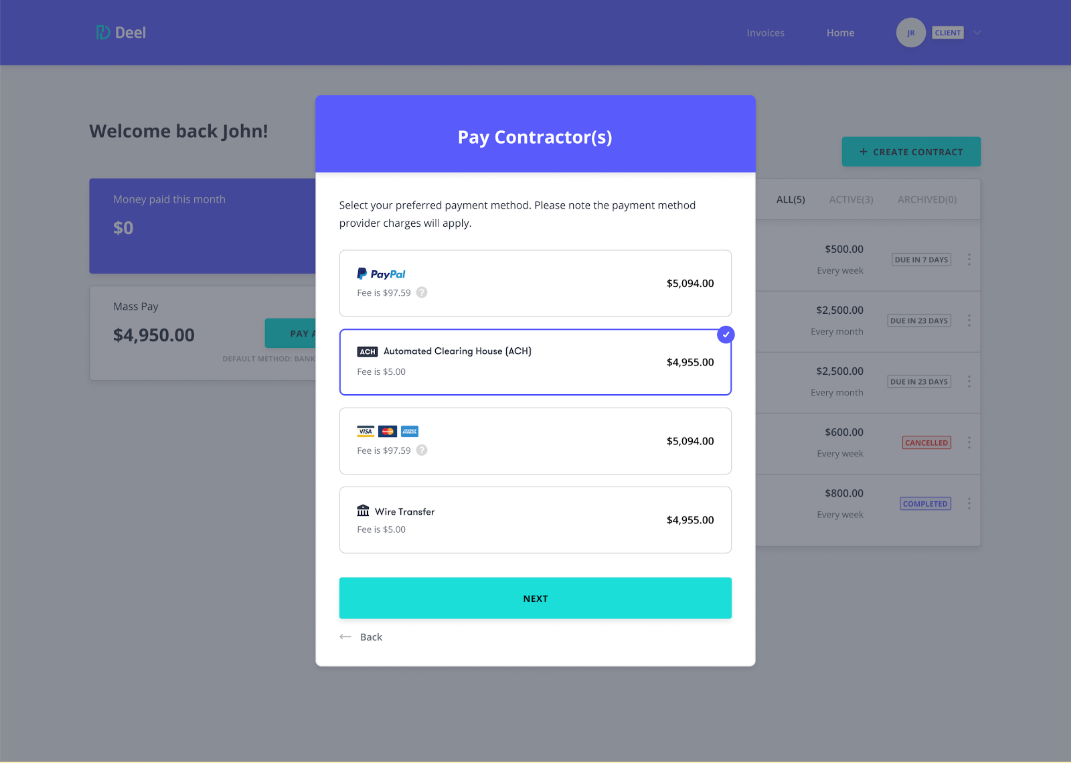 Once the payment is due you will receive an email notification to pay your contractors. You can pay them all at once with our Mass pay feature. You can choose a payment method that suits you best. All invoices and receipts are automatically generated. Once the money is cleared it becomes visible on the contractors' balance. Then they can withdraw the money with their preferred method as a whole, or split it and choose how much they withdraw.
As a US entity, what do I have to look out for when hiring people in Europe, Asia or Africa?
Always familiarize yourself with the local labor laws. Our contracts cover most of the countries in Europe, Asia, and Africa, but it's best to double-check and seek legal counsel. We are happy to have the best legal partners in many countries that can help you with specific cases.
When it comes to tax documentation, every foreign contractor working for a US company needs to fill in a W8-BEN(E) form to prove their foreign status. We can help with that.
Last but not least, you need to ensure your contractor can receive money without challenges. With our platform, each contractor chooses what's best for them and can also withdraw money in their local currency with competitive exchange rates.
Can I hire/pay people anywhere with Deel? How so?
Yes, you can hire and pay people pretty much anywhere with Deel! As I mentioned, our contracts are labor law compliant in many countries. Before you sign up for Deel you can check with us whether a specific country is covered and if not, we will reach out to legal experts in said country and add necessary compliance layers.
How do labor laws differ between countries, and how does Deel help with that?
Each country has its own laws and regulations when it comes to labor law. We partnered with the best lawyers around the world to find out what is necessary to be stated in a contract and we added it to Deel's contracts. In the contract generation process, a contract is tweaked based on the contractor's country you select. For any specific case, we are happy to introduce our users to our legal partners.
Who is Deel for?
Deel is for anyone who wants to work with contractors locally or internationally. The majority of our clients are remote companies who want to reduce the risks of compliance and give their contractors the best payment experience. We take care of the paperwork and let you run your business stress-free. We proudly serve 150+ customers, who have from two to a few hundred contractors.