From Oyster to Facebook, more companies are starting to hire a Head of Remote to understand and coordinate the needs of remote teams. But what does the title really mean?
As you know, meeting the needs of a remote team can be challenging. Employers share the desire to:
Improve team collaboration and communication, often across different time zones.

Ensure individuals avoid burnout or exhaustion.

Provide effective supervision and training for employees.

To motivate teams and keep them productive.
Learning to fully adapt to and maintain virtual working requires an appropriate path and guidance. As companies go remote, they realize that a remote organizational structure requires a different set of skills to maintain than an onsite one.
This article will walk you through the process of how to hire your own Head of Remote.
Why Are Companies Searching For a Head of Remote?
Many companies are now considering implementing a remote-first structure and are looking for a Head of Remote to:
Drive the remote transformation strategy.

Train managers on how to work with remote teams - to avoid micromanagement and build trust while maintaining transparency.

Address remote employee exhaustion or lack of motivation.

Create a remote employee/working handbook, best practices and protocols.

Introduce learning and development opportunities for remote employees.

Take ownership of the remote company culture and offer remote support to employees.

Keep up to date and use the best tools and technologies for remote work.
Who Fits the Profile of a Head of Remote?
This role is new and unique, and as such the profile of the person to fill it will depend on the needs of the business or the level of remote transformation required.
A LinkedIn search shows that Heads of Remote have backgrounds in many different areas: HR, marketing, communications and product management. Many are former CEO/Founders and play a large role in company culture and leadership.
Darren Murph is the Head of Remote at GitLab. He took on this role in July 2019 after serving as Founder & CEO of Page 52 as a senior advisor and consultant to startups and multinationals.
Darren Murph's LinkedIn profile gives a good insight into the personality, skills and background a Head of Remote should have to be successful in this role:
Passion and experience in driving transformative change.

An extensive knowledge of technology and best practices for remote work.

Excellent communication skills with a proven ability to create content.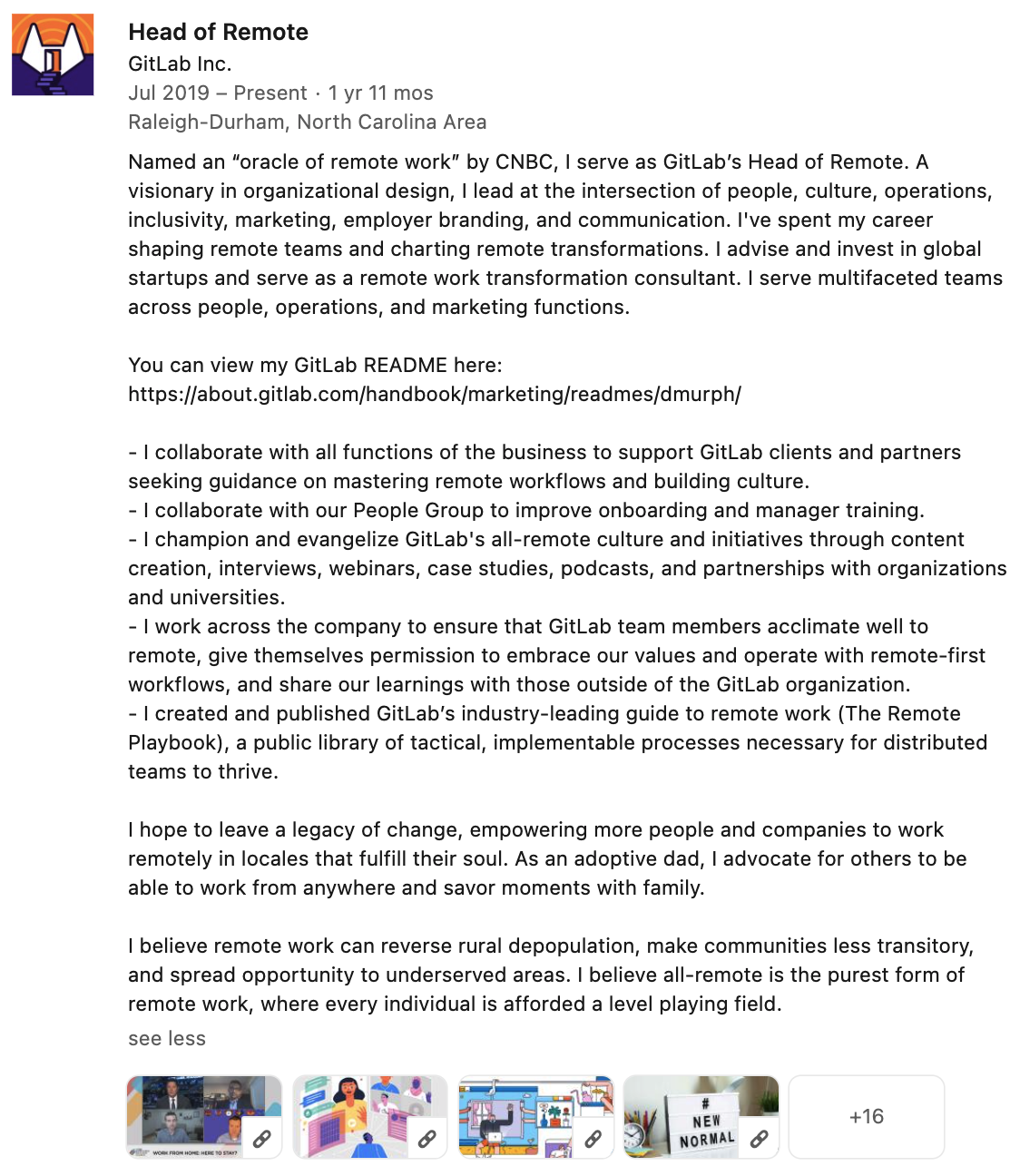 5 Steps to Successfully Hiring A Head of Remote
1. Create Your Hiring Strategy
A clear and thorough hiring process is critical to finding the right Head of Remote.
If you haven't already done so, your first step should be to ensure senior leadership buy-in for the role and that the person hired is able to interface with them. The Head of Remote should have access to the company's key stakeholders to drive company-wide transformation.
There are a few questions to include in your hiring strategy checklist.
What department will the Head of Remote report to? This could be the internal communications team, the office management team, HR or the position could be used as the cornerstone for an entirely new department.

Who will they report to?

What is your budget for the position?

What are your requirements for the position?

Is it a part-time or full-time contract, temporary or permanent?

Does it make sense to hire a consultant for the role?
For a role like Head of Remote that is relatively new, it makes sense to consider bringing in outside resources. Leveraging the network of a headhunter or consultant can make the process more time-efficient and successful.
2. Set Clear Expectations for the Head of Remote Role by Doing Your Research
Before you create the job description for hiring your Head of Remote, it's a good idea to get a sense of what the expectations are for the role and match them to your company's needs.
There are typically three aspects that need to be researched and determined:
Responsibilities of the role.

Skills and experience appropriate for the role.

Qualifications.
Responsibilities of a Head of Remote. When evaluating the profiles of current and former Heads of Remote and their counterparts, there are five core aspects of the role that serve as a great framework to describe the responsibilities:
Leadership

: advising, implementing, and evaluating new tools and policies.

Andreas Klinger

, former Head of Remote at

AngelList

, describes

the core of his role

as streamlining and coordinating product features useful for remote work.

Consulting

: researching and communicating legal requirements for remote work - for example, if your company is based in one country and hiring in another.

Equipping

: creating training strategies, training employees on remote best practices, and assisting them with remote work issues. This will boost employees' ability to stay productive and keep them trained.

Promotion

: acting as an ambassador for remote work and teaching current and potential employees about the remote-first culture.

Documenting

: Write policies for remote operations such as reducing meetings and navigating time zones.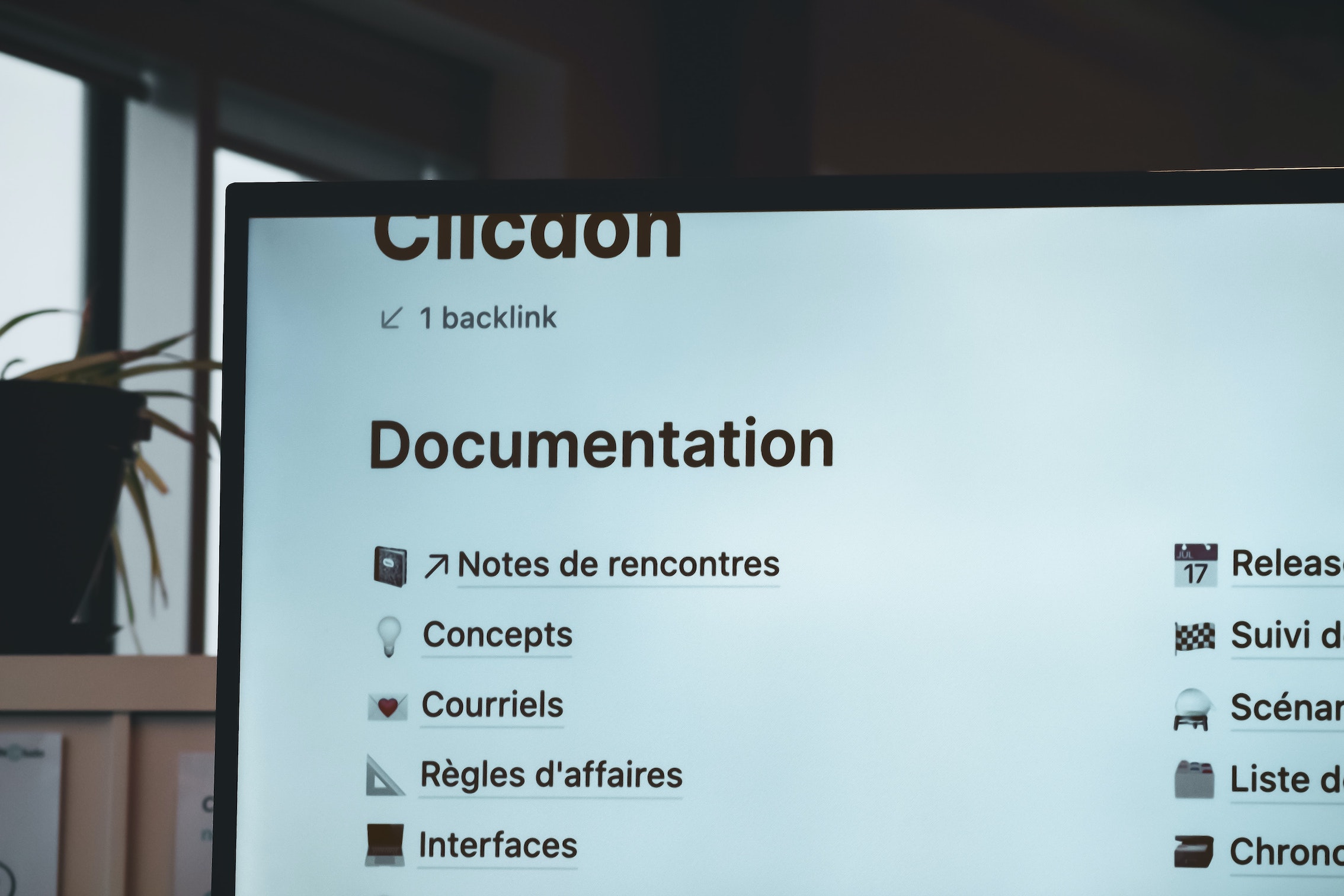 Skills and experience of a Head of Remote. Ultimately, you want to hire someone who has experience in collaborative and cross-functional roles and plays a central role in company culture and organization-wide transformations.
Research shows that individuals in this role will have direct experience in the following areas:
Leading and working collaboratively in cross-functional teams and departments.

Developing initiatives and strategic planning.

Influencing and gaining consensus with executive-level stakeholders.

Effectively and persuasively communicating complex ideas to people from diverse backgrounds and cultures.
Qualifications of a Head of Remote. Qualifications depend primarily on your company's standards. Keep in mind that qualifications affect the salary scale.
It is useful to consider what personality traits or characteristics are suitable for the role, for example:
Focus, empathy, and confidence.

Hands-on mentality, flexible and outgoing personality.
Consider what type of person will best suit your organization and fit in well with your leadership team.
3. Create a Clear Job Description for a Head of Remote
After you've done your research, match your findings with your company's requirements for the position, taking into account how experienced your company is with remote work.
As Forbes notes, job descriptions have become fluid and changeable. This means that the person you seek for the role should possess a diverse and flexible range of skills suitable for bridging the gap between different departments and company functions.
Each job description includes:
Job Title

: Consider the vertical of the Head of Remote role. Assuming your company is struggling to develop a remote culture, consider hiring a "Head of Remote Culture".

Summary of the role

: the top-level expectations of the role.

Responsibilities of the position

: a breakdown of the expectations of the role. Outline the core responsibilities of the position.

Performance expectations

: expected behaviors, outcomes, and actions. Mention soft skills here such as mentoring, listening, teaching, educating.

Qualifications and Experience

: This includes degrees as well as previous experience. Explicitly mention the types of experience you are looking for.
4. Post the Job Description for Head of Remote
Consider remote job platforms such as Like Working from Home with the best visibility. If a diverse remote workplace is a top priority, especially if you have many cross-cultural teams, consider this platform.
Stay away from unregulated sites to avoid spam.
There are also great communities and platforms for remote work like RemoteFirst Slack and Remote Tools, where you can post job ads. Research LinkedIn groups that are specific to your product, service, or industry, as many of them also allow you to post jobs.
Remember that hiring through referrals is always the best option as there is trust baked in. Your connections are typically less likely to recommend people whose work they have not evaluated.
5. Prepare For & Conduct Interviews
When preparing for job interviews, remember that it is a conversation and not an interrogation. The type of questions you ask must elicit responses that provide a clear picture of the candidate's competence and character.
Here are a few examples:
What are your three favorite remote work tools and why?

What are the main frustrations of working in a distributed team and how would you try to solve them?

What have you implemented in the past to make communication more effective and efficient?

How would they combat Zoom fatigue and Slack or Microsoft Team channel fatigue?

What does remote hiring look like in your eyes?

How would you design an onboarding program for new employees?
Ultimately, the interview process provides a space to get to know your potential candidates, ensure you have a mutual understanding of the role requirements and give them a better insight into the role and your business.
Hire a Head of Remote to Help Shape Your Organization's Long-Term Remote-First Strategy
The Head of Remote role recognizes that a remote-first workplace doesn't mean copying and pasting office life into virtual space. Instead, it reflects the need for someone whose expertise and sole job is to implement, execute, and continuously improve an effective remote setup.
We have highlighted the importance of being systematic in your search for an executive with extensive remote experience and a history of a successful business or cultural transformation.
This is an opportunity to shape your organization for the future.