Employee handbooks are a crucial part of human resources. They show new hires the information they need, can be the go-to place to store new policies in and when made public, are an excellent way to give people a glimpse into your culture. These are our top picks of public employee handbooks.
GitLab's Collaborative All-Remote Handbook
Obviously, we have to mention the incredible work that GitLab has been doing on making their employee handbook open and collaborative. With over 3,000 pages and growing, it's the most extensive remote work handbook in the world. The investment into the handbook didn't only pay off in terms of transparency in the human resources department – it's also a marketing feat that promotes GitLab and its work ethic on millions of Google search terms related to remote working. The handbook alone nets the GitLab domain millions of backlinks, impressive!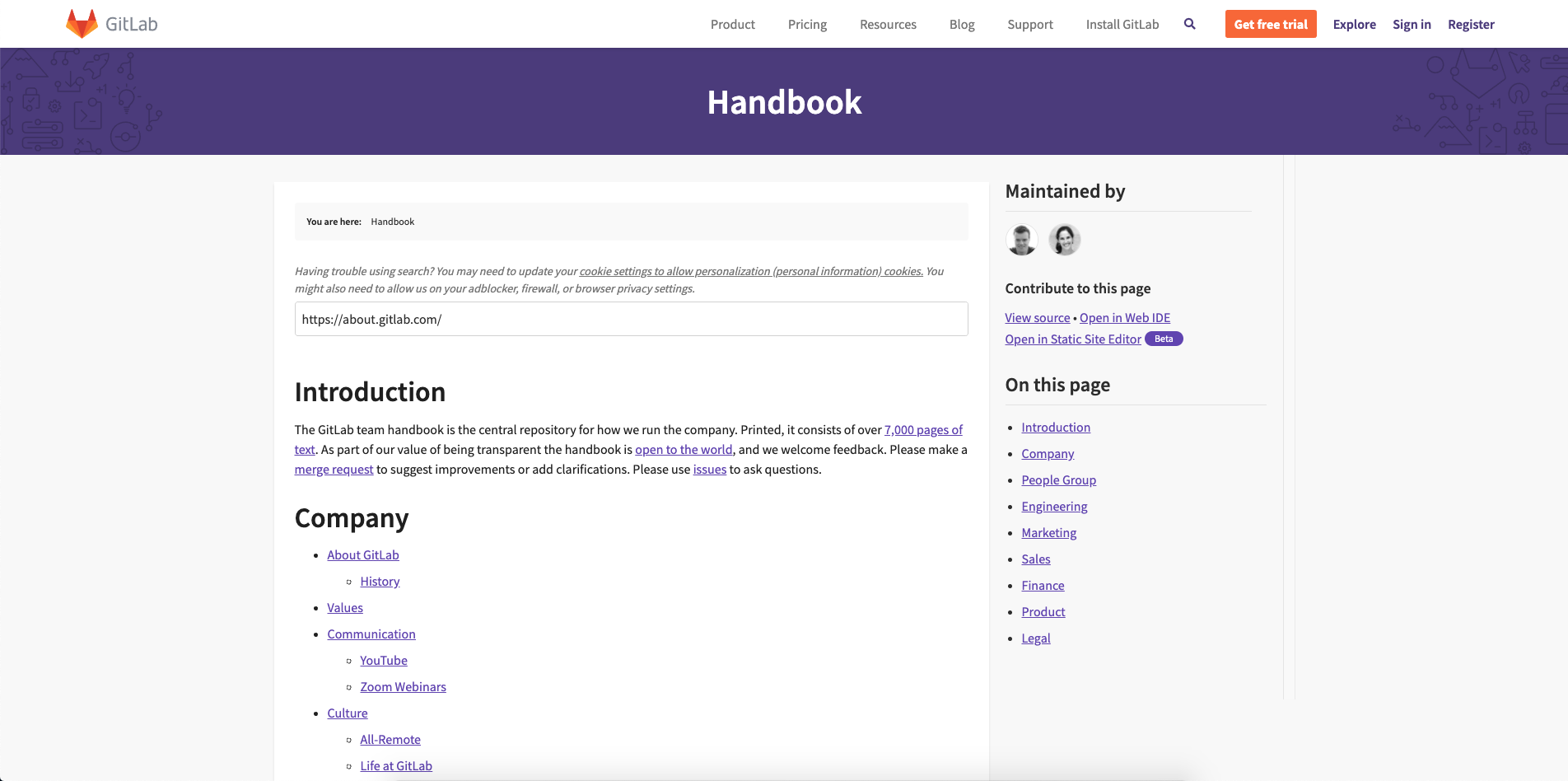 Marketing aside, the All-Remote Handbook by GitLab has become a remote work encyclopedia. Be it in interviews about GitLab or in any kind of coverage about the remote work movement, there's probably an article or quote in the handbook that can be used as a reference. As a prospective applicant or employee, it's calming to know that all information is stored somewhere in that big compendium.
Not only that, but GitLab's handbook runs on Git through GitLab. That means that any collaborator can take a page out of the handbook, edit it or add a section, open a Merge Request and get it approved. A big issue with handbooks is that they fall out of date often. If you give moderated access to your over 1,000 employees and keep the handbook as the primary record for information, it's much less likely for that to happen.
Basecamp's straight-to-the-point handbook on GitHub
Basecamp's strategy for their employee handbook is much more straight to the point. As part of their refreshed handbook experience, they have created a small slideshow that goes over 15 main chapters from their history to their travel guides and moonlighting policy.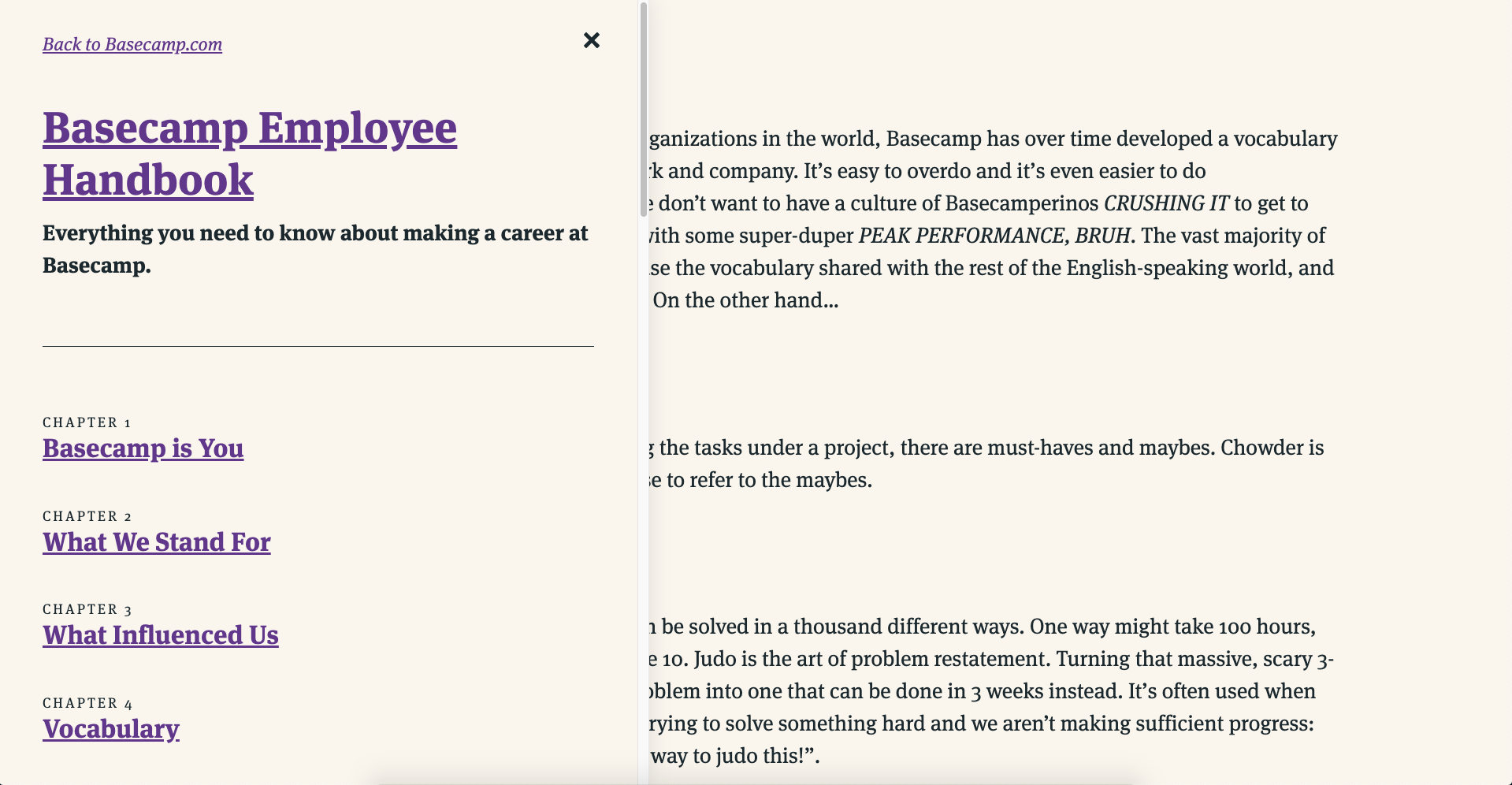 Until a few months ago, this information has also lived primarily on a Git-powered medium through GitHub. As you can see on the repository, Basecamp's handbook isn't quite as informative and extensive as GitLab's, which also leads to a lot less collaboration. That's fine though – pull requests on Basecamp's handbook usually reflect over-arching changes to a certain policy, such as changes to the profit-sharing program or a change in the requirements for a certain position.
Even if there is a little less content, it makes the utility of Basecamp's handbook no less. It captures the main policies and internal quirks of their culture without filling the handbook up with unnecessary clutter. Also: Basecamp's team is around 20x smaller than GitLab's, so it's no surprise that the handbook is a little lighter too.
Clef's handbook for inclusion and value-driven culture
Clef may not exist in its current form anymore, but their universally useful and available handbook has sparked interest either way. It reads like a blueprint for future value-driven and people-first companies and therefore is a great starting point for remote companies as well.
The handbook repository of Clef is fully packed with goodies. From their bias-aware compensation structure to and end-to-end onboarding example, it includes countless files that have lived through hundreds of iterations by over 30 contributors, amazing!
Today, almost 3,000 people have marked this repository with a Github star and as companies realize that being "value-driven" is more than just smart marketing, it's probably growing to grow a lot further.
Especially for small companies that may not have too much power to stand out from the crowd, a handbook like this can be your number one funnel to receive interesting and diverse applications.
Glitch's interactive handbook
Glitch has a long history and has built their own little nook on the internet since they started in 2000. It's very on-brand therefore that their handbook is built entirely on Glitch as well. With that, they are the only handbook in this list that does not rely on the Git protocol. Instead, changes are done through the Glitch editor directly. The handbook can be "remixed" in order to be used for your own company and just like we've seen before, there are multiple chapters that make up the handbook.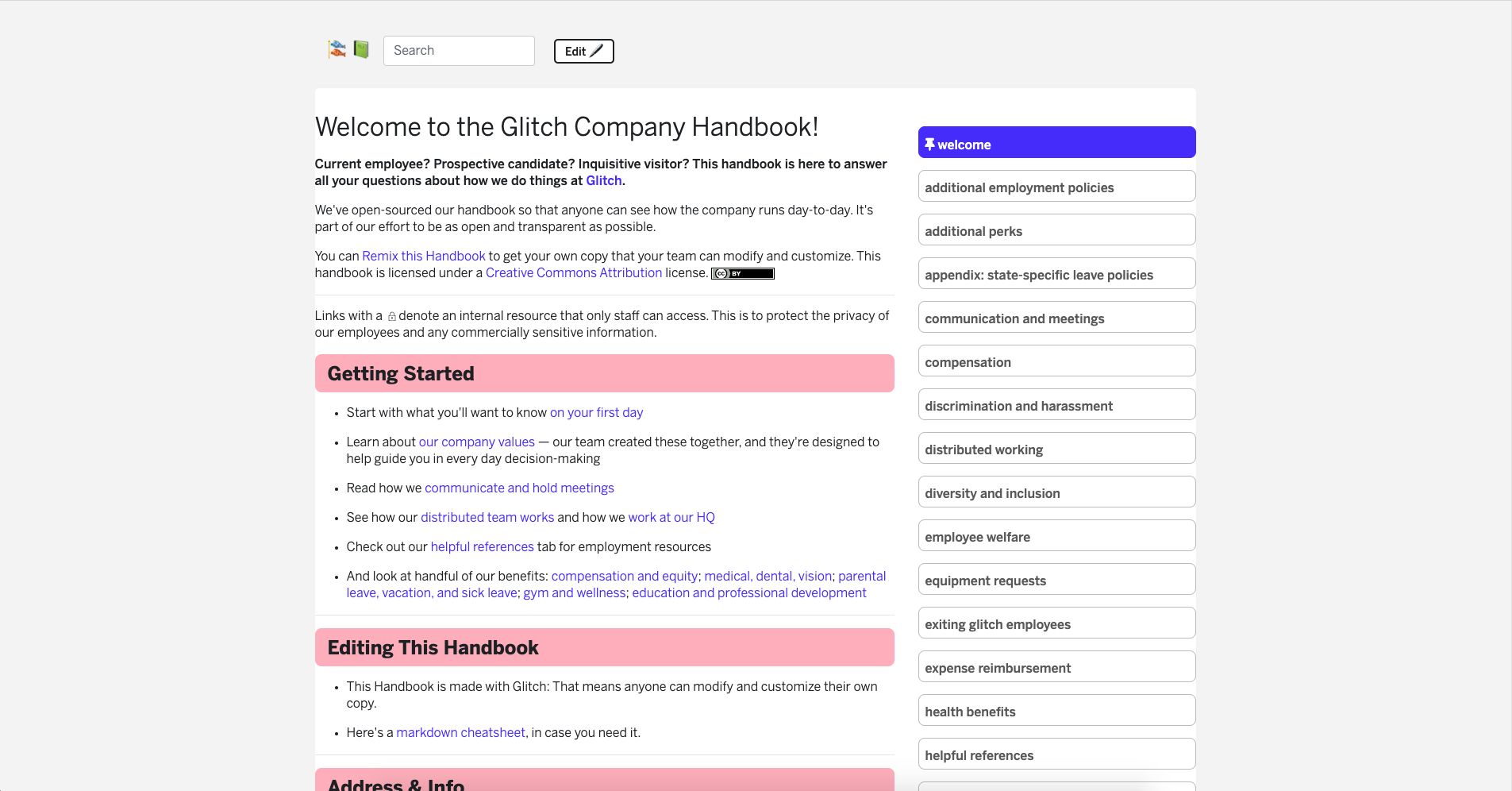 Content-wise, the Glitch handbook is similar to the Basecamp one. Policies are strict and to the point and there is not much content to be read about the ins-and-outs of their working structure. That's not a bad thing. A new hire could get through the handbook on their first onboarding day or during a few off-hours throughout their first week.
Creating a public handbook can help you
We already mentioned it, but a public employee handbook can be a great window for prospective applicants to get an initial view of how you work. It's clearer what benefits applicants can expect and whether a company will suit them.
With the large pool of hiring companies and the small differences that divide them, making those things available publicly can make you stand out a lot. If you require a specialized expert team, that can be a life-saver, especially if you can't compete on the budgets of FAANG & co.
A public handbook is also a lot of work. Things become inherently easier if the public handbook is the go-to source of your information. That means being more transparent than what you would have hoped for, but also comes with a wide range of amazing benefits, as discussed.