Unsure where to find remote work? Whether you've been working from home due to Covid-19 or are a seasoned remote worker, the landscape for remote work has changed drastically this year. With so many people looking for remote jobs, the market is full of strong candidates to compete with. However, there are also more companies offering remote jobs now than pre-Covid.
Like Working From Home and other job sites make it simple to find remote work. Plus, NoHQ is helping companies create remote strategies that actually work for both employer and employee.
How Companies Can Do Remote Work Right (and Wrong!)
If you've been working from home during the pandemic, a move to remote work is a natural next step. Or maybe you're ready to take your freelancing side hustle full time and from the comfort of your home. Either way, beware of the company you choose to work for. Picking the right job with a strong company will be key to your success as a remote worker.
Take Zoom, for example. The communication company has tons of remote positions and a 4.8 out of 5-star average rating on Glassdoor. Employees say they love working there for the diversity, inclusion, and global employee base. They note that the company is generous with benefits and bonuses. Plus, the product sells itself, which makes everyone's jobs easier.
On the other hand, some companies fail hard at remote work. In 2013, Yahoo! removed the option of remote work for its employees. The head of HR released an internal memo which said that the quality and speed of work were sacrificed when working from home. Employees also reported that the company made little effort to keep in touch. All of these issues led to a breakdown in trust between employee and employee.
NoHQ was founded to help companies avoid issues like this. Communication is key with remote work. With guidance from leading remote companies, actionable guides, and tons of tools, NoHQ helps companies create the strategies needed for a strong remote workforce.
The Different Types of Remote Work Sites
There are several different types of platforms to look at when searching for remote work. Knowing the difference will make finding your dream remote job much easier.
General job boards

- Remote work is often listed on general job sites. Websites like Indeed, Monster, and LinkedIn can all be great places to find remote work. You'll just need to understand how to filter them down to find what you're looking for.

Remote-only job boards

- With remote-only job boards, you can do a lot less filtering and find more relevant jobs faster than the alternative.

Curated paid sites

- Some job sites require a small fee - in return, you get a website that doesn't just reuse the same job postings from other sites. For example, a site like FlexJobs requires a fee, but the jobs are screened before being listed on the site. That means you'll find higher quality, better jobs.

Hosted platforms that take a cut of sales

- Freelancing platforms like Fiverr and Upwork take a percentage of all sales - about 10% to 20%. These are gig economy sites, meaning you work by the gig and not for one employer. They're great to get a start on, but not ideal for long-term remote work.
Websites for Remote Jobs in Tech

Like Working From Home has jobs in all areas, but has a large concentration of tech jobs. They're remote only, so no need to filter by location - just plug in your desired industry and job title.
If you're working in tech and value a healthy work-life balance, 4 day week has the jobs for you. Featuring 32-hour remote tech jobs with no reduction in salary, 4 day week is part of the movement that advocates working smarter to produce better results and ultimately live more meaningful lives.
AngelList is focused on matching tech workers with startups. You'll need to filter by Remote OK to find the remote work.
This job board is focused on diversity in tech. Started by two women in tech, Power to Fly matches people to remote tech jobs. When you land a job, you'll go through a two to four-week testing period.
Websites for Remote Jobs in Marketing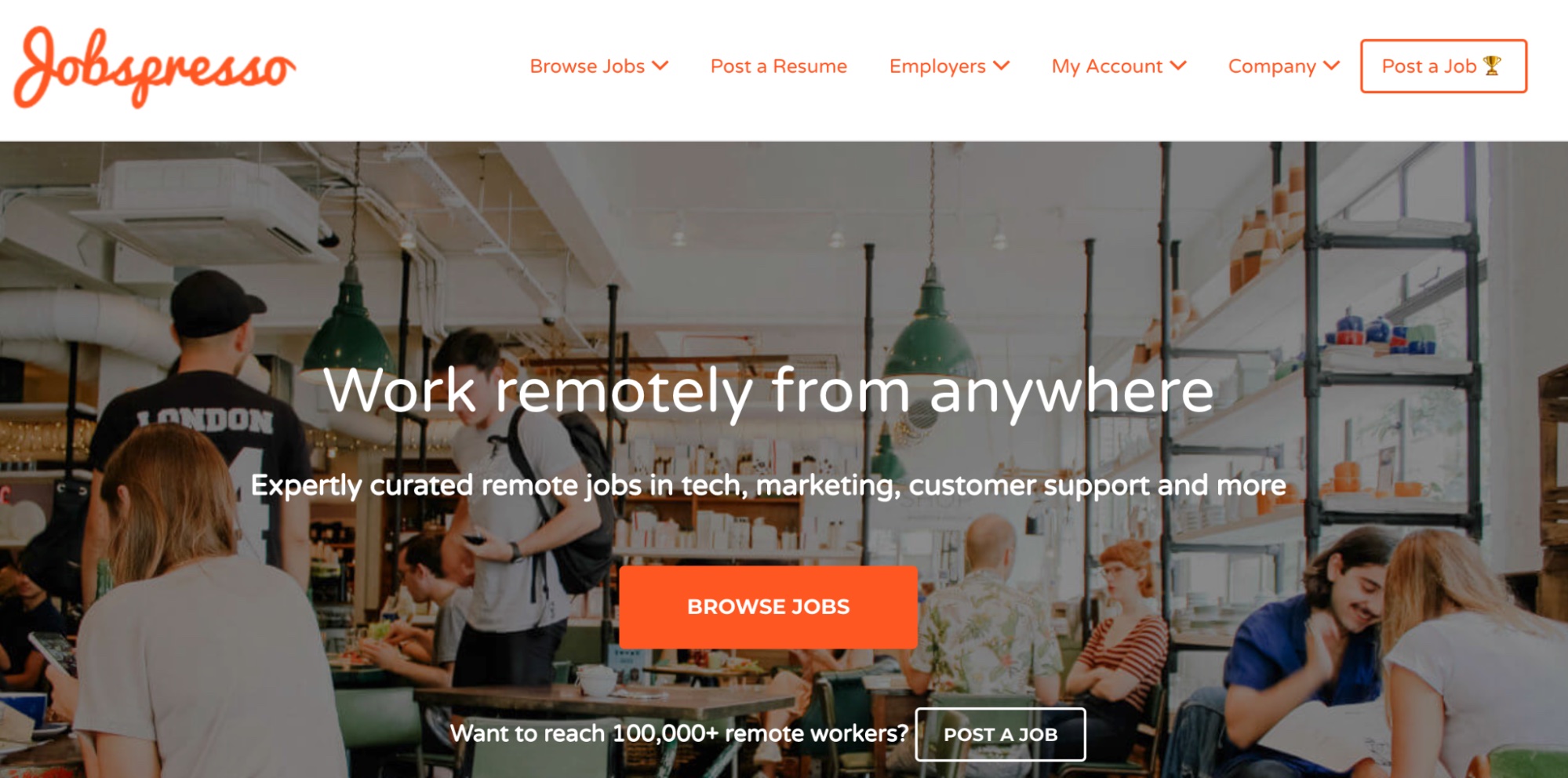 Jobspresso hosts job listings from trusted companies like Trello, WordPress, and Zapier. Their listings are primarily focused on marketing, tech, and customer support. You'll need to drill down the filters to marketing and remote only.
This job site is for marketing positions that are remote only. Drill down your search by title, organization, and description. You can also sign up for weekly job postings sent directly to your inbox.
Although this site has jobs in many areas, it has plenty of marketing roles and is trusted by companies like Google and Amazon. It was one of the first remote job sites on the scene - and it shows. The website is extremely easy to navigate and broken down by industry.
Just Remote has roles for marketing, development, design, HR, and customer service. Since they specialize in remote work only, they have considerations for remote workers in place - for example, they clearly note positions that require specific time overlaps or countries.
Websites for Remote Jobs in Sales
Remote4Me is an aggregator for remote jobs, meaning it pulls remote job listings from 40 other sites. It has tons of jobs for roles in sales, HR, SEO, and tech.
Remote OK is a remote-only job site that has jobs for salespeople, marketers, designers, and more. It includes statistics for trending jobs and rankings for top hiring companies.
Growth Hub focuses on jobs for all areas that help a company grow - sales, management, and social media are all top categories. It includes a remote option at the top of the locations filter within the job board, and from there you can easily drill down to meet your needs.
This job board is remote only, for both full-time and part-time roles. Other than sales, you can also find jobs for design, content creation, writing, and customer service.


Remote Work Websites for Creatives
This platform is more of a gig economy space, with a focus on creative work. People can connect with clients, apply for gigs, and share their samples. Find jobs in branding, web design, clothing and merchandise, packaging, and book and magazine design.
Dribbble allows creatives to share portfolios and find both freelance gigs as well as full-time positions. Find jobs in graphic design, illustration, and web design. To search for remote only, you'll need to go to the Jobs dropdown menu, then select Remote.
Behance is a creatives-only job board. You will need to filter by remote work. Once complete, you'll find freelance, internship, and full-time roles in branding, fashion, illustration, design, and more.
This job site focuses on "designers, developers, and creative pros." They have jobs from huge companies like Apple, Facebook, Twitter, and EA. It can be tech-oriented as well, so it's excellent for tech-minded creatives.
Remote Work Websites for Writers
ProBlogger shares jobs for content writers and freelancers. You'll find jobs from small blogs and large companies. You can filter by industry, type of writing, and length of work. This site does require intermediate or experienced writers, so if you're just getting started it might not be for you.
Contena is a writing-only remote job board that requires a monthly or yearly membership fee. You can find freelance gigs as well as ongoing employment, writing for companies of all kinds.
This website is more than a job board. They offer resources and contests to help people get better at writing in addition to job postings for blogging, content writing, press releases, and more.
TextBroker is a remote-only job board for writers. You'll have to write and submit a signup article to join, which is then rated. Jobs are paid by the word, and you're paid out on PayPal.
Websites for Remote Gig and Freelance Workers
Toptal connects business consultants with freelance gigs. It's aimed toward finance, software design, and project management jobs.
UpWork is a freelance-focused website where you can apply to various jobs. The jobs vary from administrative, social media, writing, design, and more. They take a cut of 10-20%, depending on the size of the job.
Freelancer has more than 44 million freelancers and employers. They have jobs for all imaginable categories - graphic and web design, branding, Amazon web services, writing, PR, and more.
Fiverr has jobs starting at $5 - not ideal for a freelancer, but a great place to get started if you have no experience. They have tiers, so as you move up in rank you can increase prices. Unlike other sites, buyers contact the sellers, so if the proposal process makes you nervous, this might be the one for you. Fiverr takes a 20% cut from all sales.
How NoHQ is Making Remote Work Better for Employers and Employees
Companies that work with NoHQ set better practices in place for remote workers. Whether you're founding a remote-forward company or are looking to transition roles to remote, NoHQ's tools and guides will make the transition smooth for all. Plus, they share tons of free, helpful content - like how much to pay remote employees and real-world examples of transitioning to remote.
Ready to get started? Try beginning with our free checklist and toolkit.