Scheduling across timezones and calendar is a pain, and sometimes we would just love to have an assistant in our pockets to do it for us. Well, that's what x.ai does! Their product sits in the space between a Calendly clone and a really well-executed chatbot, making lives of many people who spend a lot of time in different meetings a lot easier.
I have signed up for x.ai this week and let it take over my calendar for a few meetings here and there. The concept is fairly simple, but also mindblowing. If you are in an email thread with someone, simply put your new virtual assistant Anja on CC, and tell her what to do. Based on your settings, she will reach out to the other participant to schedule something, or find a gap in both of your calendars to add a meeting there.
The path to your personal AI
Getting a little robot that schedules your calls for you is massively easier than hiring someone to do it. As part of x.ai's setup, you connect your calendar app, like the one from Outlook or Google, and let the AI analyze it. In the next step, you are getting the availability to set up certain slots for regular meetings. For example, you may want to schedule team meetings in the morning, and sales meetings in the afternoon. That is all up to you.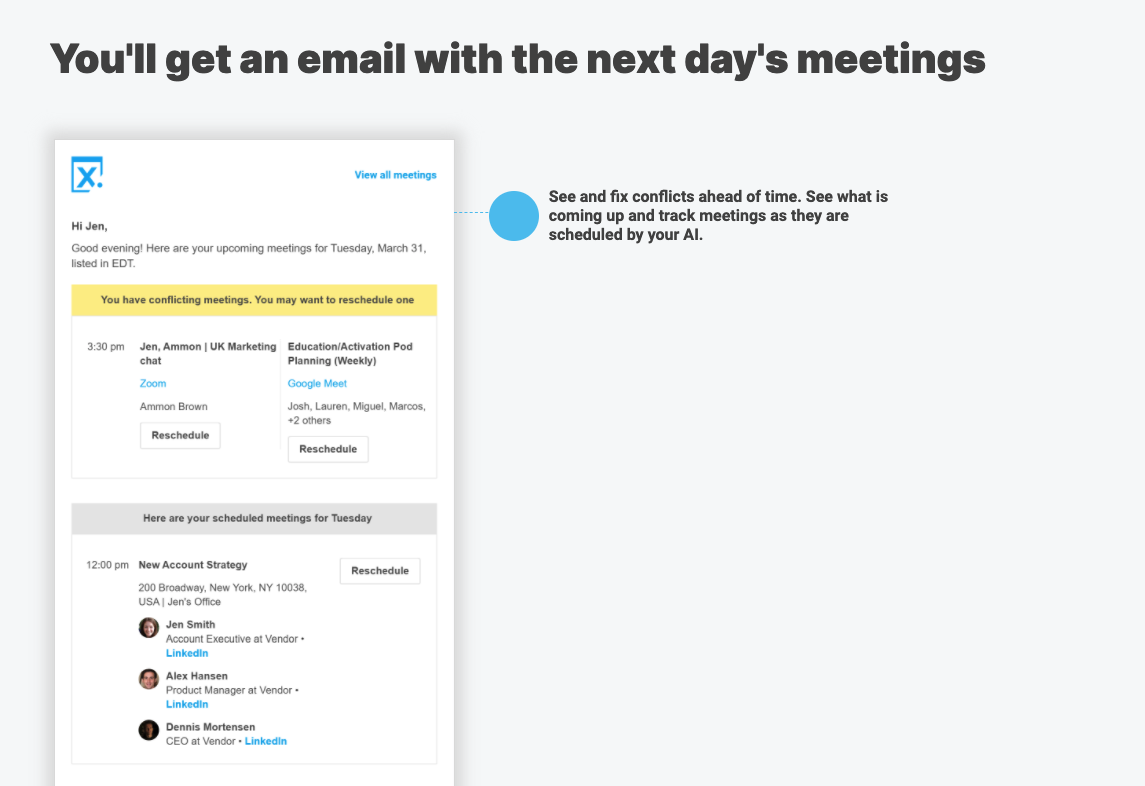 The app will continue to lead you through some of the main features. For example, the bot wills end you a message with your meeting schedule of the next day, is able to block out certain timeslots or use them for specific meetings and coordinate time back-and-forths with your meeting partners by itself.
That pretty much concludes the setup. I am being led to my personal dashboard, where I am able to explore more of the many features of x.ai and my new virtual assistant Amy Ingram. By the way, x.ai does some amazing work in humanizing Amy. They may just be a few algorithms and lines of code, but Amy has her own e-mail address (more on that later), a fully featured LinkedIn profile, completed with testimonials and a CV and has a few interviews on the internet. Funny!
Scheduling quirks and features
On first view, x.ai doesn't really seem too different from something like Calendly. In fact, x.ai practically includes everything that Calendly does as well: There is an ability to open slots for different meetings at different URLs, there is a calendar/booking view that displays all your openings and availabilities and allows folks to enter that site, book a meeting with you, get an invite and multiple options for places to meet, it all seems very simple.
The magic arrives once we look at the e-mail integration. If I CC my new virtual assistant Amy on an email and ask her to set up a meeting, she will reach out to my meeting partner (or directly book a time that suits us best) and just get back to me with a confirmation of the meeting. Surely it can't be this easy? I decided to give this a try, booking meetings with myself, friends, test e-mails, everyone!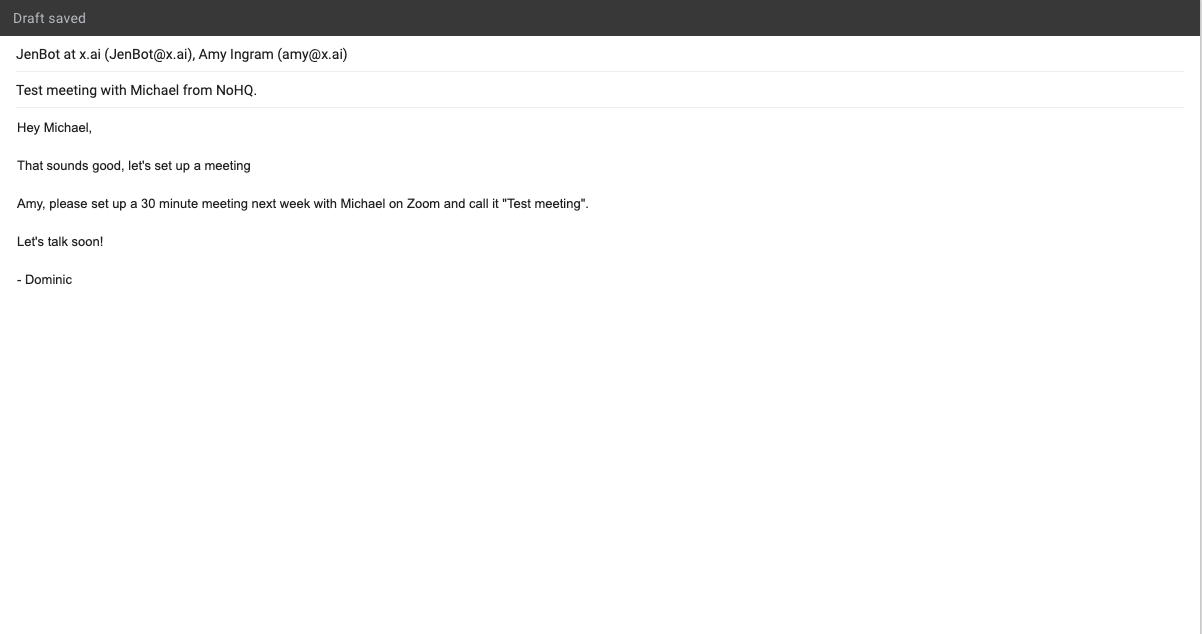 The integration holds up! x.ai's algorithms can successfully parse what I want to book, can look at calendars, detect open spots and see whether times and dates work for everyone. In this case above, Amy had access to all calendars involved, so it was a very quick process – 2 or 3 minutes later we had a time and date.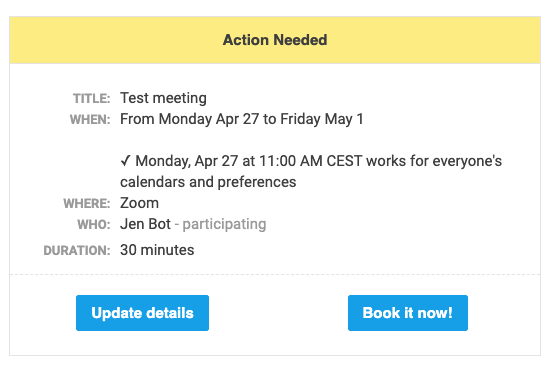 That's all it took! A few hours after this, I was updated with my schedule changes for the next week, apparently there was a new 30 minute meeting scheduled for me :)
That's the core of x.ai: Really, really simple and almost human feeling scheduling services. There are a variety of functions that can help you take more advantage from all this, such as setting up specific meeting locations per time (e.g. meeting for lunch at your favourite restaurant), allow for breathers between meetings, block off certain times completely, and even customize Amy's behaviour, signature and responses.
The future of scheduling could be more human
Scheduling is a tedious process, and Calendly was the safe haven for many of us, once we started to use it. If I have learned anything trying to get meetings with very busy people, it's that something static like Calendly doesn't hold up with the very busy schedule of a CEO, Entrepreneur, Journalist, Manager or similar, that is why personal assistants are a thing.
I know from previous interactions with Amy (when I was the one who wanted a meeting) that cancellations, reschedulings and meeting clashes are handled very gracefully by her. In fact, I was not aware that I was talking to an algorithm before I saw the .ai domain, magic!
I believe we will see assistants like this pop up more, not only for scheduling, but possibly also in other areas of running our business: Talking to users, checking in on team members, all things that CRMs are supposed to do.