Banding your remote workers together and reinforcing a shared identity is tough without physical interaction. However, with regularly scheduled virtual team bonding activities and retreats, you can counter work from home loneliness.
Virtual retreats consist of company gatherings that take place on online platforms such as Zoom, Slack, Webex, etc. These can include workshop sessions, company updates, and fun initiatives that range from virtual tasting events to online games. They foster stronger interpersonal relationships and virtual communication skills, boost the morale of remote workers and promote team collaboration.
In this article, NoHQ has compiled a list of virtual team retreat activities that you can start using for your next team bonding session!
A Checklist for Conducting a Virtual Retreat:
Establish the goal of your online team-building activity.
What is the issue that you want to address through this team bonding experience?

What is the desired outcome you are aiming for?
Ensure that the scope of the retreat can fulfill goals and objectives planned for the virtual event.
How many employees will be attending?

Does the scale of the retreat extend to the entire company or only to specific teams?

Duration and theme of the retreat?

What is the budget?
Perform test runs
Overcommunicate the schedule to ensure everyone is up to date.

Ensure that the software/platform does not crash or can't handle the traffic.

Make certain that all activities provide a level playing field. No participants will be left out, or can cheat during the activity.

Activities should be conducive and promote a safe and fun environment for everyone.

Make audio-only sessions an option to counter Zoom fatigue.
Rough outline
Agenda outline —

Let the participants know what to expect and present them with a rough timeline for the virtual retreat.
Welcoming everyone —

Open the room early and greet people as they connect. Engage with the participants to keep them entertained through welcome questions, polls, etc. Give participants the peace of mind by acknowledging that background noise, or their kids interrupting them at times is alright.
Virtual Icebreaker —

Run a short "getting to know each other" session through 1-2 games and get the ball rolling and hype up the participants.
Discussions and activities
Intermission —

Lunch break, dinner break, etc.
Reflection, follow up —

Before you dismiss the crowd, run a reflection session and ask participants to share their key takeaways. Alternatively, you can schedule a follow-up session if more time is required.

Closing —

Leave some time for participants to thank the organizers and hosts before thanking the participants and saying goodbye.
22 Virtual Retreat Activity Ideas
1. Workshop sessions
Workshop sessions consist of learning events, in which a specialist talks about the ins and outs of what they do. For example, a product manager could host a session on what the next product release features will be to marketers and salespeople who are not in the trenches of product development. These sessions can help foster cross-team interaction and help teams understand how they can better support each other through shared knowledge.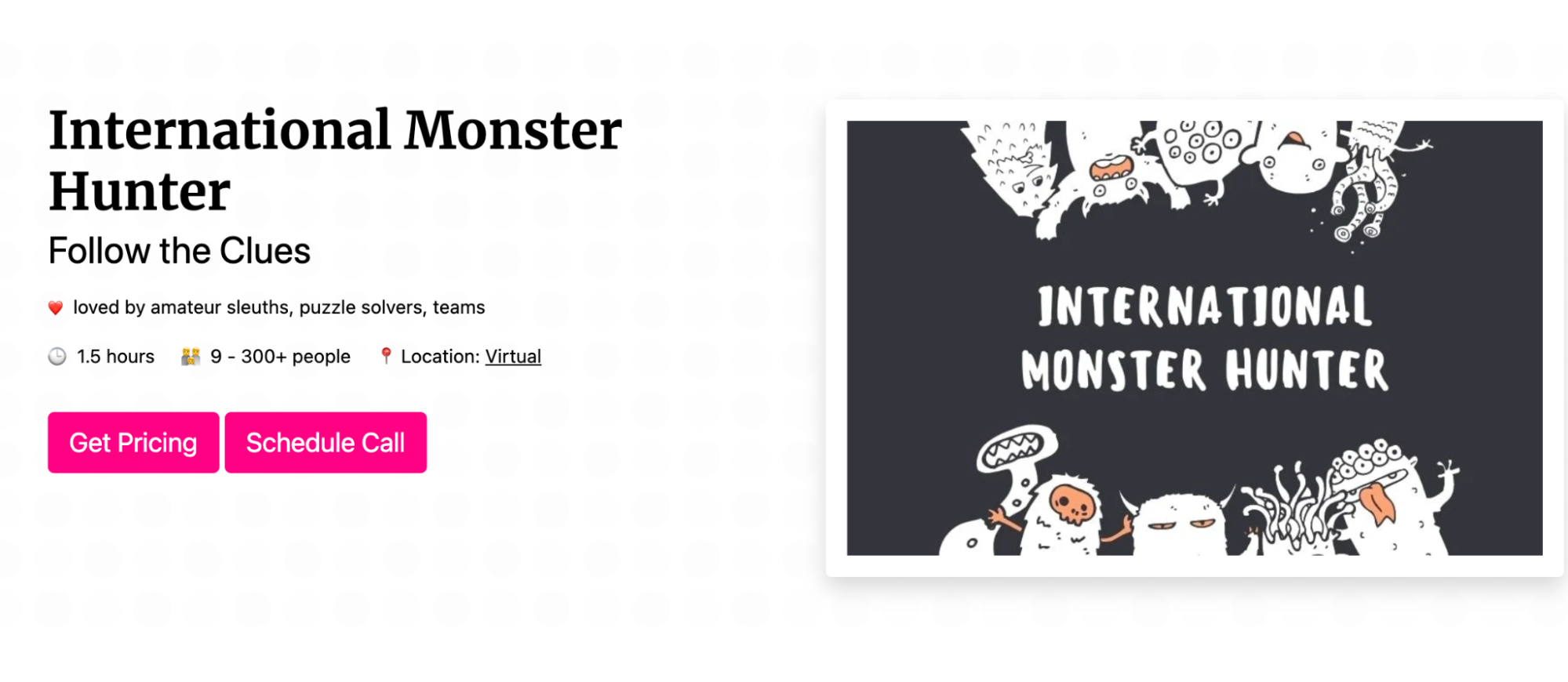 Teams will be required to work together to solve riddles, find clues and keys to escape the room within a fixed amount of time. There are various themes available to match the theme of your retreat. The main objective of these games is to encourage collaboration and teamwork.
3. Virtual Trivia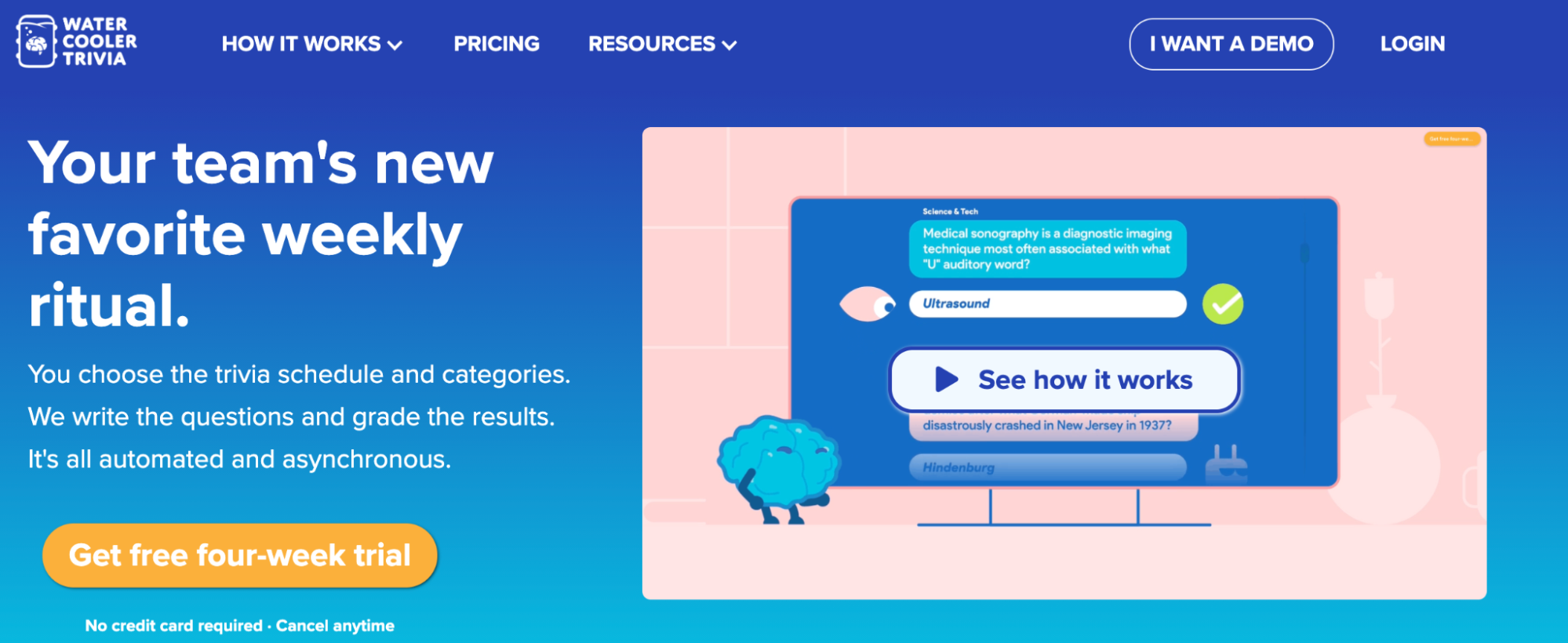 Successful trivias have the most interesting questions. Throw in memorable questions that encourage participants to share with their friends and family. Use tools like Watercooler Trivia to bring trivia fun to your workplace.
4. Swag Bags
In every retreat, employees are always looking forward to seeing what is in the prize pool. Just because it is no longer a physical retreat, does not mean that you should skimp on the surprise! Instead, you can mail door gifts to your participants. For example, a portable charger, customized tote bag or t-shirts, snacks to accompany participants throughout the retreat, etc.
5. Virtual tasting experiences
Virtual tasting experiences can be a very engaging online team building activity. Of course, this will involve a little more work in finding out the dietary restrictions of your participants to cater to their needs. Participants get to taste samples mailed to them with an expert guiding the entire experience, running for an hour or so.
6. Virtual Scavenger Hunts
Ensure that the rules for this scavenger hunt are simple and that the items are common in households. Your clues can be broad and generic such as breakfast items or more specific to include cereal. The aim is to get participants up and moving, with some competitive spirit.

This is like hosting a virtual office Olympics event, and is a fun way to stoke friendly rivalry. The entire experience lasts 90 minutes and comes packaged with an energetic host to entertain your staff. They have various fun add-ons that you can select such as creating video trailers on your behalf and other extra activities.
8. Employee Wellness Sessions
These activities can include mindfulness and meditation sessions guided by an expert, performing a joint home workout session, desk stretching for posture, yoga, building new habits, etc. The aim is to improve the health and wellness of your participants and to get them to relax.
9. DIY Craft Challenges
You can set a time limit and allow participants to use whatever items they have at home to build something according to a theme. Of course, you'll need to share some video resources with them to get them started. Alternatively, if you have a budget, you can give teams some money to buy a specific list of items required for the session beforehand.
10. Confetti
Confetti is a one-stop-shop for online team building activities. You can browse and instantly book online experiences through their platform. Some of their trending experiences include cookie decorating classes, museum storytelling tours, drag bingo, and much more. They will even ship the kits to your participants on your behalf, saving your team all the trouble.
11. Scattergories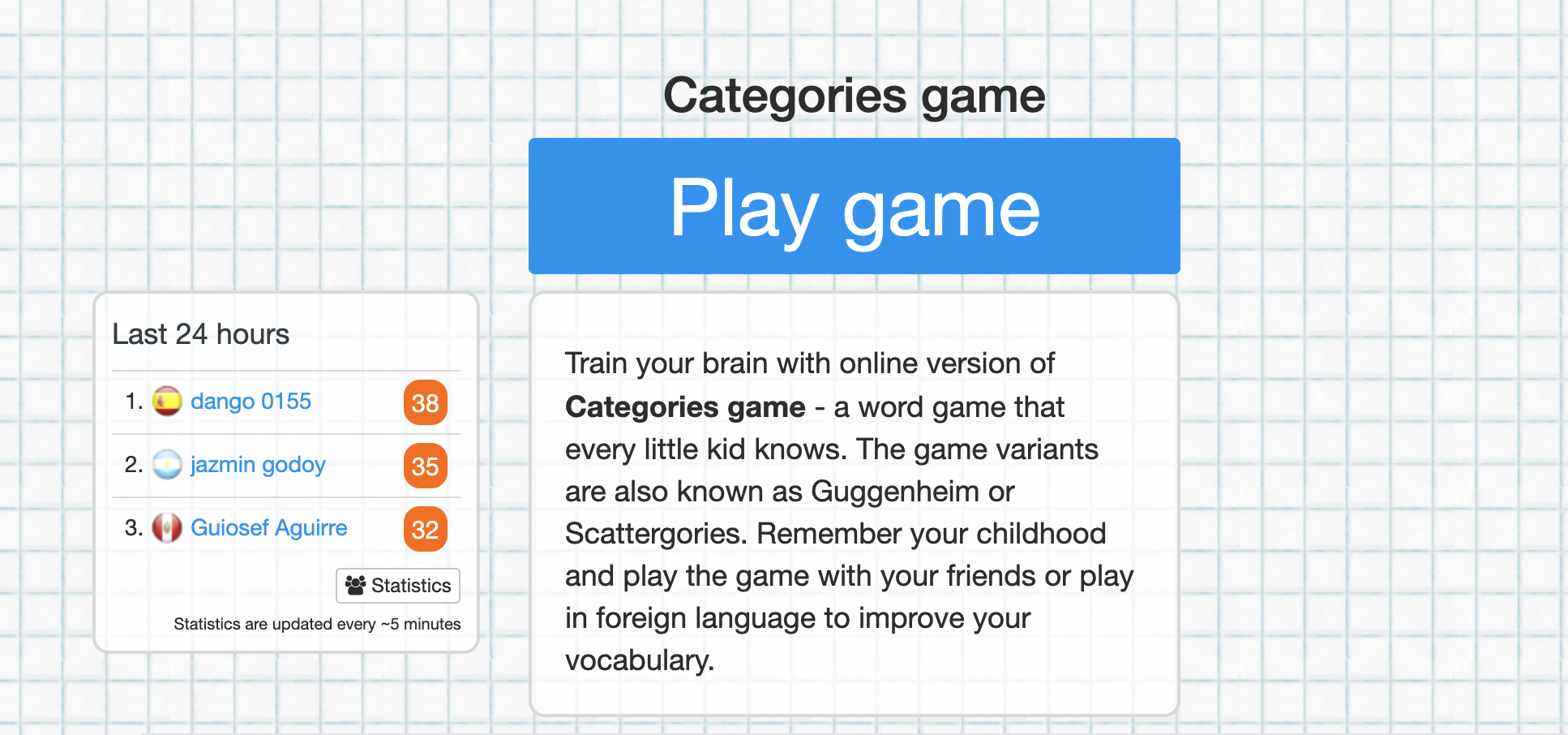 This game promotes creative and quick thinking among the participants. It requires players to name objects within a specific category and a given initial letter within a time limit. A moderator will be required to also act as the host and assign the scores.
12. Clue Virtual Murder Mystery
This activity requires teamwork and effective communication for teams to successfully solve the cases they are presented with. It is a race against the clock to solve the mysteries and find the murderer! Boost team morale and maintain a sense of comradery among team members.
13. Coworker Feud

This is a corporate version of Family Feud! There will be an entertaining host to lead the session with multiple rounds. Teams compete against each other to come up with the most popular answers for each survey question. This game can be used as a virtual icebreaker to hype everyone up with some friendly competition.
14. Woyago's virtual trip to Paris
Laugh, learn and connect with your team while in Paris from the comfort of your home. There will be a range of activities that relate to French culture such as trivia questions, vocabulary lessons, quirky stories, etc. There are extras that you can add on such as "picnic boxes" where everyone will be mailed a box filled with french delicacies!
15. Virtual Dance Party
This may start off a little awkward, so it would be great if the host could step forward and be the first to get the ball rolling. Have a music playlist ready beforehand and accept any song requests along the way. Conduct a sound check to ensure that everyone can hear the host's music and start dancing!
This activity may last from 30 minutes to 2 hours depending on your preference. Teams will go head-to-head in this virtual game show and tackle trivia challenges from a wide range of topics. Alternatively, you can host the games yourself and create your own question pool.
17. Team Pursuit
Remote teams are made to compete against each other in a series of virtual mental, physical, skill, and mystery challenges. This helps to foster better strategic communication skills, teamwork, and collaboration among cross-functional teams.
18. Virtual Happy Hour with cocktail kits
This activity will work better in smaller groups of up to 20 people, and will require some budget. The idea is to send all participants a Happy Hour Box filled with some snacks and drinks. Companies like City Brew Tours curate Beer and Cheese Pairing Experiences and custom tasting boxes which you can check out.
How about giving your remote workers the chance to become brewers for a day? This experience lasts 2 hours, and can be carried out over Zoom. No prior knowledge is required and all the equipment and ingredients will be delivered right to your participant's doorstep prior to the event.
20. Learning Circle by Atlassian
How about an opportunity to learn something new as a group? With Atlassian's learning circle templates, designing a virtual educational activity becomes an easy feat. You can use this to encourage continuous learning among teams. This activity is also great for promoting a shared understanding and team cohesiveness.
21. Offline book clubs
Have your remote workers do some reading independently and set dates for virtual meeting and sharing sessions. Request for your remote workers to jot down their thoughts and learning points and host discussions to facilitate knowledge sharing. You can also recommend a list of titles to read if your team is unsure of where to begin.
22. Hackathons
Hackathons are usually software focused, but can be tweaked into a brainstorming session. Throw in topics such as "new services we can offer" or "how to reduce spending on a certain topic" and you might be greeted with some unexpected suggestions.
Virtual retreats are no longer static and can fulfill the same objectives as a physical retreat.
Virtual retreats are a great way to keep remote employees engaged and active, while providing them with a platform and opportunities to connect with other individuals within the organization. It has the power to elevate and promote a remote culture that everyone enjoys.
There is, of course, no perfect formula or structure to a virtual retreat, but the essence lies in finding new ways to foster human connections in a virtual world. As such, we hope that this article has given you some useful suggestions on virtual experiences for your retreat, and we can't wait to hear some of your success stories!