Day-to-day communication happens asynchronously when working with a remote team. While startups try to conquer the synchronous space, there is far less work happening on the other side. Let's look at 13 of the best tools for asynchronous work.
The Classic: Slack
With asynchronous communication apps, there's the well-known combination of Slack + Zoom. The two tools perfectly complement each other and make synchronous and asynchronous communication perfectly.
While Zoom is slowly becoming the undisputed champion in synchronous communication, Slack is a worthy asynchronous collaboration tool. However, Slack only takes second place to Zoom because it is not truly asynchronous.
Our very own glossary classifies asynchronous communication:
Asynchronous Communication (often referred to as "Async") is communication that doesn't happen instantly. Contrary to synchronous communication—for example, phone calls or a face-to-face talk – async communication is usually archived or saved somewhere for future reading. The participants, therefore, don't need to be present to receive the message.
The first part is true for Slack, but the second part doesn't apply as Slack's strength leans on whether the team is online. They relegate discussions in Slack to linear channels, with little functionality around organizing discussions in an async manner, meaning anyone who is offline may miss important work-related discussions.
We also know Slack to be quite aggressive with its notification settings, "do not disturb" functionalities, and online indicators, pushing it towards a more real-time, instant messaging tool.
If used right, Slack is the logical choice for remote teams. However, there is very little to no support or guidance within the Slack app itself. Since Slack isn't very intuitive, it will take some getting used to.
Making its comeback: E-Mail
With the need for an async communication medium, many organizations are once again turning to traditional email. Email has always been reliable and used by multinational companies for decades.
E-Mails are usually

long-form

and carefully written

E-Mail threads usually

start and end with a specific topic

E-Mail threads

normally only include relevant participants in a certain discussion

Today's emails allow rich content, attachments

, and

direct integrations to calendars and meetings

E-Mails are

naturally

async, just like physical mail
While e-mail itself is mostly staying the same, the clients aren't. Superhuman may be the most notable release of the last few years, but many companies—including Microsoft with MS Teams—are pushing towards a new e-mail experience. E-Mail is getting a second life it's always deserved.
The Home-Made: Twist & Threads
The best solution for this will come out of a remote team that struggles with this every day.
Here is why Slack and email may not be the end solution for a remote team: They don't offer the right balance between flexibility and thoughtfulness.
In the past few years, remote teams provided new apps to the lineup of best tools for asynchronous work. One of them is Twist, another one is Threads, among countless others.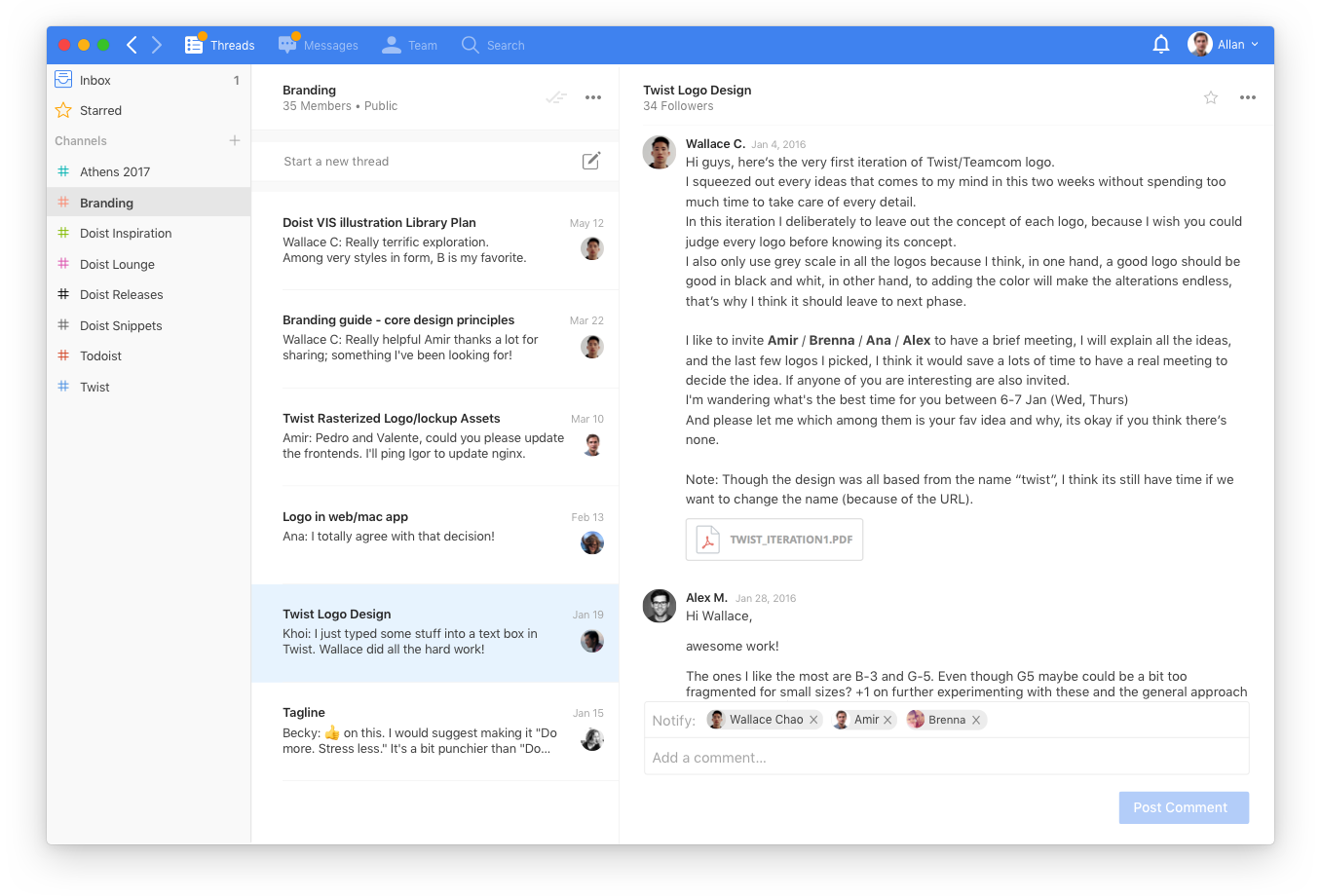 Here are a few things these have in common that make them worthy contenders:
Thread-like build structure like e-mails

The whole team

onboarded on a slack-like space

Combination of casual instant messaging and space for thoughtful discussions
This space is one to watch. Who is going to become the Slack of Async Communication?
New Generation: YAC
Imagine if you took Slack, and completely re-imagined it from the ground up. What would you like to see?
There's a reason next-generation communication tools use other means of communication outside of text:
Writing takes a lot more time than speaking

Emotions can get

lost in communication

Conflict can arise from team members trying to read between the lines

Casual discourse is often discouraged
There's a growing response to that from remote work tools. Video-based standups are a thing, and startups like YAC ("Yelling Across Cubicles") are exploring the audio verse.
YAC is an interesting asynchronous communication tool to watch because it took a concept which is—at least amongst the younger generation—very widespread (casual voice notes) and reused it in a business context. The combination of great UX and values came together to produce a tool that is helping hundreds of remote teams reclaim natural conversation.
While this may not be the most productive way of communicating and organizing information, it's something to look out for as new asynchronous communication tools develop.
Working With Contractors: Deel
Remote teams often wonder how they'll deal with global payroll, especially when working with users from all over the world. How do businesses run with employees, or even independent contractors, as part of their overall global workforce?
Creating contracts means dealing with the legal ramifications and specifics across a country's borders, so an asynchronous tool is needed to help clients connect with their workforce at their own convenience. That's why Deel is on the list of async communication tools because it allows business owners to connect with, and pay, their contractors worldwide without having to deal with compliance.
Transparent payrolls and the ability to generate contracts when hiring contractors overseas help businesses manage their contractor payments.
Time-Management: Toggle
Many asynchronous tools focus on communication, but there are very few with time-tracking integration. Keeping track of your employee's time spent working when they're juggling projects or tasks is great for businesses to help them optimize their processes.
Toggle is an easy-to-understand asynchronous time-management tool that gives businesses a simple, yet effective means of conceptualizing time. What makes Toggle interesting is the advanced analytics on top of a very simple-to-understand interface for tracking accountability in the workplace.
Time-tracking tools, such as Toggle helps businesses avoid scheduling missteps and ensures projects are completed within a reasonable time. For companies always struggling to meet deadlines, Toggle assists you in tightening up and making the best use of your time.
Peak Organization and Wellness: DailyBot
Asynchronous messaging tools that can span multiple other tools for async communication are something you would only think to see in Inception. However, teams, Slack, Google Chat, Discord, and Telegram all integrate well with DailyBot, a chat and collaboration tool used to help organize teams in an asynchronous way. Other companies that trust DailyBot for asynchronous collaboration include:
Samsung

Chime

Pixar

Rakuten

Motorola
DailyBot focuses on interactions and motivations, especially with remote teams who get very little human interaction during the day as they're working in their virtual offices. It's easy for people to quickly become unhappy remotely. DailyBot also allows businesses to provide positive feedback to employees who experience limited face-to-face interactions with its Kudos feature to help foster a culture of appreciation and recognition.
DailyBot's mental health check-in helps keep employers aware of their employee's mental health and wellness. All of that is packed in an easy-to-integrate asynchronous app that helps team members report their own progress, regardless of the time zone they're in.
Asynchronous Video: Loom
Loom is great for communication and collaboration, as it provides an effective way for remote workers to provide short video tutorials that they can record and send to each other quite quickly:
Record directions

Create instructional videos

Provide closed-captioning and text-to-speech for accessibility
Businesses can also use this to share their screens and avoid any misinterpretation that can get lost in written text.
Modernizing The Past: Discourse for Teams
We thought internet forums were a thing of the past, but not only are they still around, but they're also modernized for even better collaboration and asynchronous communication. Discourse for Teams looks to hit some very specific pain points:
Losing something mentioned in conversation

Having an important reply lost in an email chain

Efficient internal discussions
Of course, async communication is one thing but task management, also included in Discourse for Teams, is another. Discourse for Teams includes extra tools, such as a task management feature that allows the assignment of tasks to specific team members. Instead of getting lost in countless threads full of disorganization, you can set a topic timer to close topics once the team members have finished the task.
What gives this async communication tool even more of a reason to be on this list is the support ticketing feature that allows anyone from any time zone to assist with support tickets, working down tasks, and creating notes for other team members.
Truly Asynchronous Collaboration: Trello
Trello is for businesses who want a truly organized work management app that relies on a project board full of cards to conceptualize a workflow. Trello is one of the remote team communication tools based on the concept of placing post-it notes all over a computer monitor. In addition, it also hows a variety of apps, which it calls as power-ups, within its ecosystem, making it a formidable all-in-one product management tool.
Trello is lightweight

Trello is one of the best async tools for project management

Trello offers workflow automation

Trello is cheaper next to its competitors
Trello is free, but the catch is you can only upload up to 10MB per file. You are only allowed up to 10 accessible boards as well. For smaller businesses needing asynchronous communication tools, then the free version of Trello should suffice until increased revenue warrants an upgrade to the premium option of Trello.
The important function allows businesses to move their data from spreadsheets into Trello for better organization. For businesses that were using basic spreadsheets to organize their team, you don't have to start over when moving to Trello. When importing from a spreadsheet, Trello automatically turns spreadsheet data into organized cards which helps any business with their workflow.
The cards are also customizable with due dates, labels, and everything else a business needs to conceptualize time management and urgency. The only real complaint Trello has is how long the lists can get when there are a lot of tasks to do, but Trello has endless potential once they clean up their search function and interface for more comprehensive project management.
Organized Meetings: Hypercontext
Businesses have relied on one-on-one meetings to boost productivity since the beginning of time. Now, we have more asynchronous communication tools to give us the features we need to optimize our meetings and get the most out of our employees.
What's great about Hypercontext is it sells itself as an asynchronous tool for holding meetings and collaborating on agendas, but one of its best features is goal setting. Like Trello, project managers can take advantage of Hypercontext's goal-setting software to empower their team to take accountability for their tasks and inspire others to do the same.
No matter where the team members are in the world, you can add deadlines and track goals that they can update to visualize the project's progress. The chat function included with each goal helps improve collaboration and helps each member of the team inspire others to reach each milestone.
One Of The Best Asynchronous Communication Tools: Notion
When you look at Notion, the first thing you think of is Trello, but there's so much more to Notion and it makes it one of the best asynchronous communication tools on this list. Collaboration has never been easier when you can work together virtually as if you were in the same room.
Notion uses layers instead of folders for a strong organization

The search function on Notion is very precise with the ability to add features

Notifications on Notion allow for truly asynchronous communication
Task and note management are made easy by Notion and it's one of the reasons why it's compared so heavily to Trello. Those wanting to make the move from Trello to Notion can also important their Trello workflow seamlessly into Notion without missing a beat. Everything in Notion is kept in one simple space with a clean interface.
Some of the features included in the free version of Notion:
API Integration

Knowledge Base

Drag and drop editing

Real-time collaboration

Unlimited pages and blocks

Synchronization across all devices
Notion isn't only one of the best asynchronous communication tools, but it's also one of the cheapest with their professional package as low as $8 a month.
Remote communication tools are almost required by all businesses that operate globally and hire team members from all over the world. Whether you need collaboration with people in different time zones, need to track the progress of tasks, need a place to host your meetings, or simply need to pay your contractors, there is no shortage of asynchronous tools to choose from.