Slack has changed the game for team communication. However, when it comes to using Slack for remote teams, some crucial design flaws risk negatively impacting your company's remote workflow:
Notifications can be disruptive and create an unnecessary sense of urgency

It's far too easy to clutter up channels with a few short messages

With a lack of face-to-face communication, intended sentiments are often misunderstood
At NoHQ, we believe that Slack is an amazing product for remote collaboration - when it's used correctly. It has a great UI, tons of integration possibilities, and is easily scalable.
With that said, we've put together this guide on how to effectively use Slack for remote teams. In this article, we'll cover:
TLDR: 6 Slack Best Practices for Remote Teams
Use Slack channels to centralize information

Reduce Slack interruptions to create a more async environment

Create a Slack etiquette guide and communications guidelines for remote work

Keep remote teams engaged by encouraging casual chat on Slack

Making use of Slack's integrations to improve productivity and boost team engagement
​​How To Effectively Use Slack
1. Use Slack Channels To Create Virtual Offices
Slack's channels feature is a powerful tool you can - and should - use to define spaces in which your remote teams can communicate about set topics.
Separating your remote teams' communication into channels centralizes relevant information and makes it easily accessible. It means the right employees are receiving the right information at the right time. Not only that, but it prevents important messages from getting lost in discussions about other topics and channels from being overloaded with unnecessary and irrelevant messages.
Create dedicated channels for different teams

as you would have designated spaces for them to work in a physical office. For example, your marketing, sales, and development teams, etc., should each have their own channel.

Create channels for specific projects

too. These should include the relevant employees and stakeholders across different teams to discuss all matters related to that project. Once a project is completed, its

Slack channel can be archived

(if you want its contents to remain searchable), or permanently deleted.

You can then

leave your #general channel for important organization-wide announcements

.

Use the "pin" feature to highlight important messages

within a channel to ensure they're found easily when needed.

Encourage team members to use the "message reminder" feature

when they're busy on another task or have finished work for the day to make sure they remember to reply.

Ensure channels are named intuitively

for easy identification and to keep the conversation on track. See the below example from Slack for ideas on how to name your channels effectively: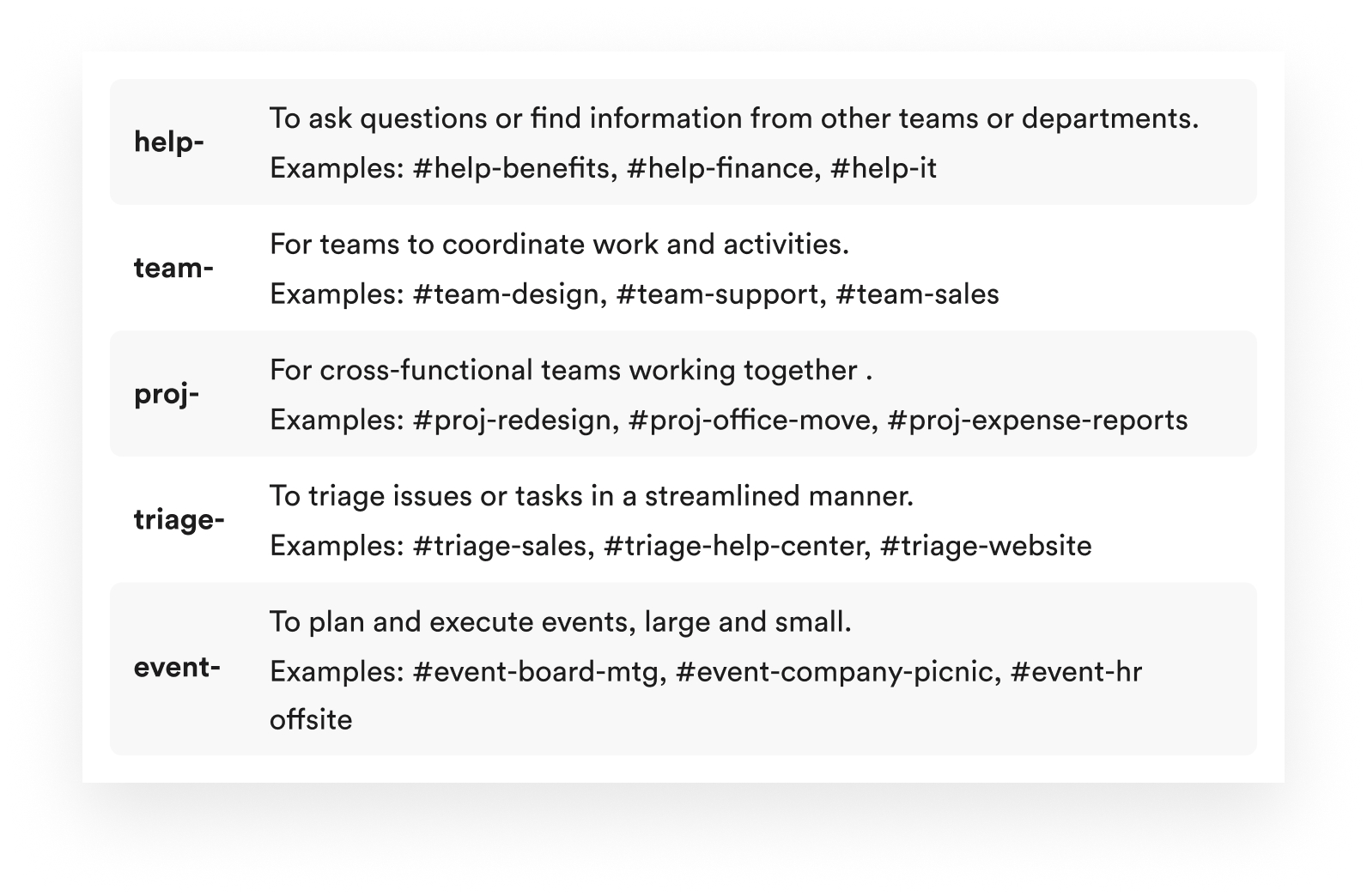 The goal here is to consolidate relevant information into a place where the people who need it can find it easily. It also helps reduce interruptions, as chats aren't being disrupted by team members repeatedly requesting the same information. And that brings us to:
2. Reduce Slack Interruptions
Disruptions like unscheduled calls and persistent notifications prevent employees from achieving a flow state, i.e. the deep concentration where they do their best work. So, for remote teams to use Slack effectively, it's important to limit the app's interruptions to their work.
On-premises employees have no problem silencing Slack notifications or not replying after-hours because their team can physically see that they're working. However, with remote teams, there's often a perception that if you don't reply, you're not working. That's obviously not true, which is why ground rules need to be set for effective Slack use for remote teams.
To reduce Slack interruptions, lay out clear guidelines that every employee in your remote teams should follow, including:
No @channel or @everyone calls.

Use Slack's new Notification schedule feature to define when notifications are allowed and disable them outside of local work hours.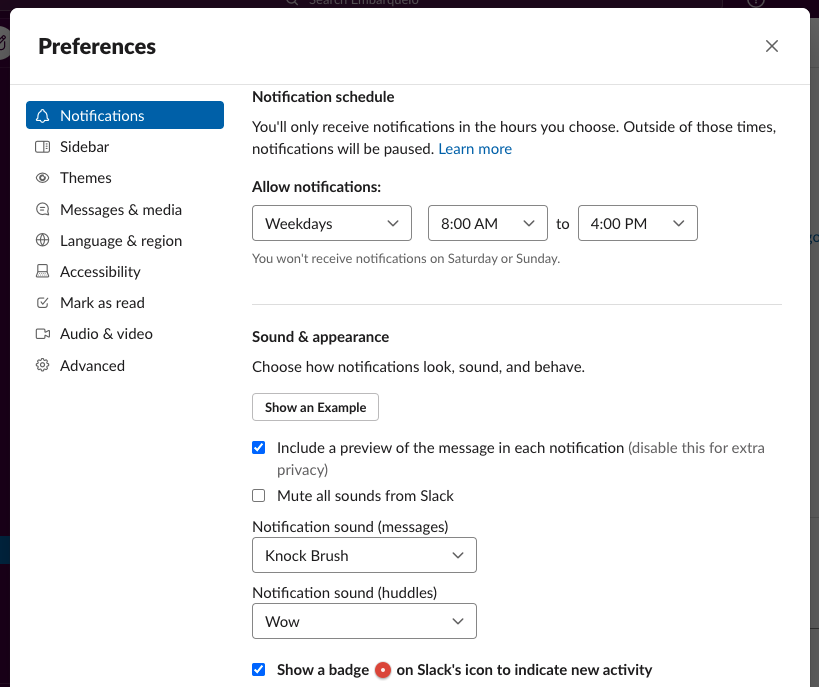 Encourage employees to use "Do not disturb" mode by pausing notifications when in deep work.

Consider allowing people to receive notifications in Direct mentions, but limit the use of @-mentions in that case.

Create a priority channel (e.g. #announcements) which only admins can post to. Allow notifications there. Be cautious.

Use Direct messages when absolutely necessary.

Encourage your remote teams to delete the Slack app off their phones: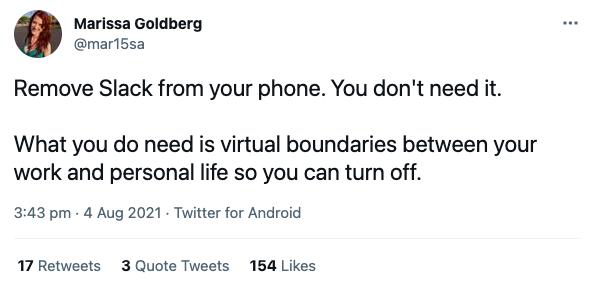 The goal in reducing Slack interruptions is to make it possible for everyone to work and reply on their own schedules. Not only does this help remote teams use Slack more effectively, but it also helps maintain a work-life balance that is so important for your employees' health.
Create a Slack Etiquette Guide
In addition to having the right technical settings in place, creating an etiquette guide is a necessity, if more holistic way, to effectively use Slack for remote teams. Make sure your employees understand and act on these guidelines when using the workspace:
Write long-form messages

containing as much information as possible. Likewise, encourage reactions to longer messages rather than short replies. Short messages in quick succession clog up the channel and should be limited.

Notify if the message has been seen. This can include using the checkmark emoji to notify the poster that you have seen the message.

Reply using threads

. A root-level message should only be used to start a discussion. Anything that relates to this message should be discussed in a thread, so it can be browsed and reconstructed later on. Again, if you see recurring issues with this, deploy a

Thread Bot

.

Use channels rather than group direct messages

. It's important for all relevant members of a remote team to stay in the loop, so discussions should be public if possible.

Employ good punctuation and grammar

. Switching a full stop to a question mark can make a big difference to the meaning of a message and to the intended sentiment behind it, especially considering the challenge in transmitting emotion through digital communication. If you notice recurring grammar issues, don't hesitate to deploy a

Grammar Bot

. It may seem like overkill, but it can save a lot of time.
The goal here is to make communication as clear, thoughtful, and efficient as possible while keeping distractions and messages to a limit. Correctly written long-form chat messages might feel excessive, but they help to consolidate all information in one place so that remote team members can read, process, and reply to them on their own schedule - even if that's hours later!
Keep Remote Teams Engaged On Slack
People can feel distant, demotivated, and lonely when working remotely. A key part of effectively using Slack for remote teams is to ensure everyone stays engaged and connected. From regular check-ins to using emojis, you should make your Slack workplace an inclusive, supportive, and FUN place for your employees to be:
Get all team members to set up their user profile

with their photo, job role, and location. Not only does this encourage personal connections, as remote individuals actually seem like real people, it also makes communication more efficient as you know you're speaking to the right person.

Automate weekly or daily check-ins

. This can be challenging if your team members are located in different time zones, but regular meetings are key to keeping your employees engaged, connected, and caught up on what's going on. When people can mentally prepare for a scheduled meeting, it helps them organize their time and prevents them getting overwhelmed. It also allows you, as a manager, to monitor their achievements and support them where they may be struggling.
If meetings really aren't possible, you can use slash commands to get Slack to automate a reminder for each member of a channel to check in, like in the below example. Alternatively, you can use an app to create a reminder for you.

Use Slack's phone and video conferencing features

to maintain "face-to-face" connections with your remote team. Live chats are great, but there's nothing like seeing people's faces to encourage personal connections.

Video calls

are really useful for discussing complex topics and for brainstorming ideas, as they allow for open and instant conversation.

Share successes and celebrate birthdays

and other life events

on Slack. Create an environment where your remote teams are excited to talk about their lives and achievements and use reactions and comments to congratulate each other. This goes for successes outside of work too - that's what #random channels are for!
Encourage the use of emojis

. No matter how trivial it may seem, there is a reason for this. Not a lot of emotions can be transmitted through chat, so it's important to artificially create them.
Implement channels for virtual watercooler moments

. Create separate channels for people to chat and share silly ideas, jokes, GIFs, and memes. It keeps the non-work stuff out of other areas and makes it mute-able, but creates a great virtual space where people can chat casually. A #random channel is a good place to start and many communities use a #coffee channel as a place for breaktime chat. You could also create more specific channels like #bookworms, where people can discuss what they're reading,
Organize team-building events

. Even if it's just once a month or once a quarter, hosting an online event on Slack is a great way to foster a sense of community within your remote team. From trivia to rock-paper-scissors, loads of games are available for integration with Slack (as we'll discuss in the next section).
Some companies even bridge that virtual/real-life gap by sending out food and drink hampers for employees to enjoy during the meeting. Christmas party idea: create a #merry-christmas channel and do an online cheese and wine tasting with the whole remote team! You can even use an app like Polly to get them to vote for their favorite.
Make Use of Slack's Integration Possibilities
One of the most powerful aspects of Slack lies in the many apps you can integrate to help your remote teams work effectively. App integrations and workflow automations for Slack range from practical project management tools to fun additions like Bitmoji and Giphy. Below, we discuss how some of the main Slack integrations can help you use Slack more effectively for remote teams:
Improve Productivity & Focus
Integrating your most-used remote work tools into Slack helps your teams avoid constantly switching between apps and therefore keeps them more focused and productive. Here's a handful of examples:
File storage (

Dropbox

,

Box

,

Google Drive

,

Microsoft OneDrive

)

Calendars (

Google

,

Outlook

)

Meetings (

Zoom

,

Google Meet

,

Cisco Webex Meetings

)

CRM (

HubSpot

,

Zoho

)

Sales tools (

Salesforce

,

Zapier

,

Intercom

)

Collaborative and project management tools (

Asana

,

JIRA

,

Trello

)
Increase Engagement
As we discussed above, you can also use Slack's app integrations to create a better engaged and connected remote team:
Apps like

Polly

facilitate decision-making and giving feedback by creating polls your teams can vote in

Birthday reminder bots

Cakeday

and

BirthdayBot

make sure you never forget a colleague's birthday

Social apps can create

virtual coffee breaks

or "watercooler" moments to encourage personal connections between employees. Take

Donut

for example, which introduces team members randomly so they can chat (and don't worry, it's opt-out so more introverted employees shouldn't feel any pressure!)

Reward apps like

Hey Taco

and

Bonusly

make it easy to show some appreciation for colleagues even when working remotely

Memes, gifs, games, and trivia can be used in team-building events and non-work channels to create a fun breakaway space for remote teams
Improve Your Remote Teams' Productivity
Slack is a great product with powerful features for connecting remote teams. However, it takes some work to ensure you're using it effectively.
Ensuring communication is clear and concise and that information shared is relevant and timely are two key factors in effectively using Slack for remote teams. Likewise, creating an inclusive and supportive virtual environment where your team members feel valued, trusted, and connected will make them happy and productive workers.
If you've tried all of these techniques but still feel your team could be working more effectively, why not try an asynchronous alternative to Slack instead?